Samson didn't disappoint, yet again showcasing his stroke-making skills. Rahane, continued at his own pace hitting three sixes, and the duo took the Royals over the line, with Samson remaining not out on 47 off 33 balls. If you had to pick two names as favourites to win a Mr Congeniality contest on a cricket field, Rahul Dravid and Adam Gilchrist are sure to be the leading contenders. They are the most admired men to have graced a cricket field. In the former Australian's case, the stand-out facet being his penchant for walking without waiting for the umpire's decision—at times even when the opposition is yet to appeal.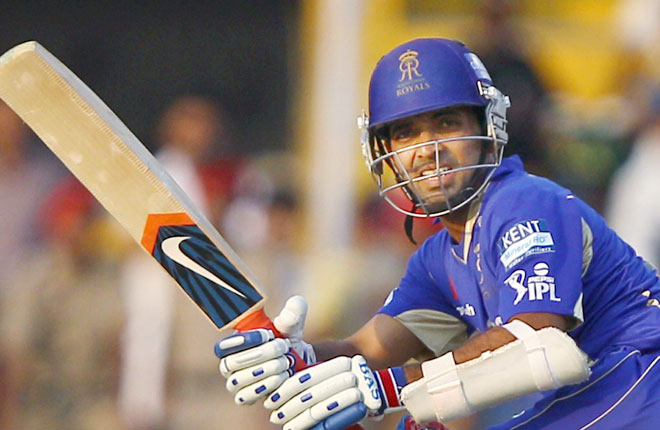 On Thursday at the Punjab Cricket Association (PCA) Stadium, however, Gilchrist was run-out and he stood his ground. Instead, the Kings XI Punjab skipper even ended up exchanging a few words with Rajasthan's Ajit Chandila, resulting in Dravid having to intervene. Nobody could have blamed Gilchrist for his state of agitation though. The run-out had come about through a freak incident anyway. It was the third over of Punjab's innings, and Shaun Marsh had stroked a ball from Chandila towards Shane Watson. While the batsman wasn't interested in the run, Gilchrist had set off from the non-striker's end. Watson's throw at the stumps then hit the Punjab skipper's gloves and ricocheted towards Chandila, who duly took off the bails. Gilchrist was still out of his crease, and not too chuffed about the outcome.

Mature knock
And it took another memorable show of sportmanship to sort the issue out, as Dravid withdrew the appeal, allowing Gilchrist to continue his innings. While the two veterans provided yet another example of their gentlemanly disposition, Ajinkya Rahane continued to enhance his reputation of being among the brightest batting talents in the country. Remaining unbeaten on 59 off 49 balls, he took his team home to a comfortable eight-wicket win and a likely spot in the playoffs stage of IPL VI with another mature match-winning knock.