Desi girl Vidya Balan is leading the Indian invasion of the French Riviera in outfits designed to leave absolutely nobody in doubt of her nationality. At the opening ceremony on May 15, Vidya, who has the rare honour of being on the Cannes jury this year, wore her heart on her sleeve in a monochrome, embroidered outfit by favourite designer Sabyasachi Mukherjee. The finishing touches to her outfit were a heavy gold and diamond necklace, bindi and pallu draped over her head. She accessorized with a Namaste and a big smile.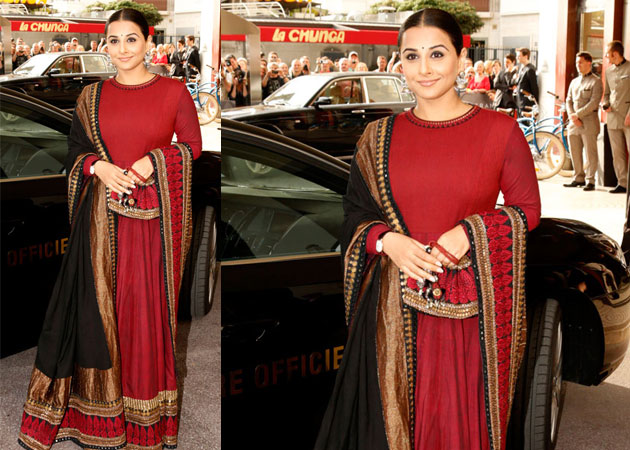 Sabyasachi was also her designer of choice earlier in the day. Vidya wore a maroon and black lehenga choli with jhumkas and the ubiquitous bindi to a cocktail party that preceded the festival. And this third outfit, a white and gold sari with a full-sleeved embellished black blouse, is typically Sabyasachi too.
Sabyasachi, who drew inspiration from William Dalrymple's book The White Mughal, said: "It's a purist ethnic look, almost like a Golconda princess. India has always been a country of excess, rather than minimalism. We are looking forward to bringing back what India truly stands for. Cannes will see a representation of Indian textiles and handicrafts. The jewellery is by Pankaj Surana and Amrapali."

"Full sleeved blouses, khadi saris, anarkalis, chiffon s, benarasis, chanderi, and much more. Clutches with Kashmiri, Parsi and kutch craft. Beautiful old pieces of ajrak and lots of khadi, which has a string texture. India is only known as a bling country, this time it's about Indian fabrics and their diversity and little embellishment."

Of course, we knew in advance that Vidya was packing a sari for Cannes. Vidya, 35, told PTI: "I see myself in a sari even when I am sleeping. So you will see me in a sari in Cannes."Fashion star Sonam Kapoor, a Cannes veteran of three years, agreed that Vidya should wear a sari. "Vidya will look beautiful in chiffons and mulls, and she should wear pearls," she told NDTV.

"She should go for softer fabrics since its extremely hot in Cannes and not wear heavy drapes," she added. Sonam also advised Vidya to ditch her favoured jewel and dark tones for brighter and lighter shades. So far, Vidya has worn both - the dark maroon and black ensemble, and the lighter one for the opening ceremony.

Last year at Cannes, all eyes were on actress Aishwarya Rai Bachchan, who was making her first major red carpet appearance after the birth of daughter Aaradhya. Everyone wanted to know what she would wear. This year, we're hoping to see Vidya Balan acquit herself with fashion honours.