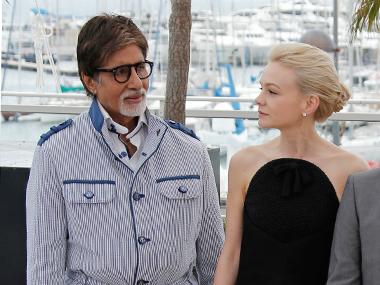 It's that time of the year again, when newspapers make awful puns like "Cannes She Do It?", and the rest of us lap them up like hungry kittens because we get to see the most beautiful people in the world and Abhishek Bachchan strutting their stuff on the world's most glamorous red carpet.

Something else also happens there, I think they're called oovies? Juvies? I want to remember, but I am so dazzled by the light shining off the sequins on Amitabh Bachchan's Elton John outfit that my brain cells are disintegrating. Which outfit, you ask? This one, dear friends. And now, before I show it to you, remember that he is the same Big B inside that we all know and love, and I've registered a PIL that Enforced Fashion Rehab be a thing.
Now I want to know which tool decided that putting a sequinned tux with a studded – STUDDED – bow on Amitabh Bachchan was the smartest, most fashionable move. I understand that The Great Gatsby is over the top, ergo the Big B rocking some sparkle shouldn't be that unheard of, but this is the Cannes red carpet, whose family motto has always been "not that crazy". It's like sending him to a funeral dressed as a sexy nurse. For someone as cool and elegant as Mr Bachchan, the brief should've been a classic tux, or even a well-fitted bandhgala. Not shiny and most certainly not 'Jitendra goes to the Navy!', which is what I like to call this next outfit.

Then there was Vidya Balan, whose "You mean, this ISN'T the set for Jodha Akbar 2?" look only pales in comparison to Sonam Kapoor, because Sonam Kapoor decided to show up in a rejected Indian Superhero Costume. Guess who lost on the Avengers' gravy boat on account of listing "ask Anil Kapoor" as a superpower – Nose ring Neetu. Rumour has it that Vidya Balan almost sat on Nose ring Neetu because she thought the latter was furniture for Jodha Akbar 2.

Ladies, I have a few genuine questions – what are you hiding under those voluminous bolts of cloth? Are you smuggling slumdog millionaires in there? Doves that will fly out at the end of the 100 years of Indian Cinema ceremony? Govinda for a surprise item number? Ghatkopar station? I guess we'll never know unless Firstpost flies me to Cannes to investigate…

Don't get me wrong, I love the thought behind these outfits — not Eltonitabh Bachchan John's – but the girls are simply trying to show the world their heritage. Unfortunately, now the world thinks that our heritage is synonymous with What Magical Drag Queens Puke. It's good to play up your Indian-ness at events of this stature but some stylist, somewhere needs to draw a line and pray that no one thinks of covering it with sequins.