Gauahar Khan (yes, that's the way her name is spelled), is on a career high. Her musical extravaganza 'Zangoora' has completed 1000 shows and is still going strong. She stepped into the show when even a concept like this was unheard of. Moreover, in her heart she was looking at establishing herself as an actor. Still, she took the plunge and today, with 'Zangoora' turning out to be super-successful and her featuring in close to 700 out of 1000 shows as 'Lachi', Gauahar is understandably excited. 1000 shows - The feeling must be exhilarating, isn't it? I had to really pinch myself when this truly happened. At the beginning we thought that we may go to 100-150 shows. After all, it is such a large scale show and such a long run seemed difficult, if not impossible. Yes, in our heart we felt that a milestone of 1000 would be terrific. Now that it has indeed happened then it is all thanks to the audience. We all feel extremely proud. Personally for me it is a great opportunity. (Laughs) Not many actresses have a Live musical show in their resume In the hindsight, what really has worked for in the show's favour? The very fact that something like this has never been in vogue when it comes to entertainment events. Yes, there has been theatre but traditionally that has been on a small scale. There has never been a Broadway or a Western show in our country. This was in fact one of the challenges for us to let know people all about 'Zangoora' and how did it play out. This is a brand new concept which is away from the usual Bollywood thing. We brought in exclusivity by breaking the medium.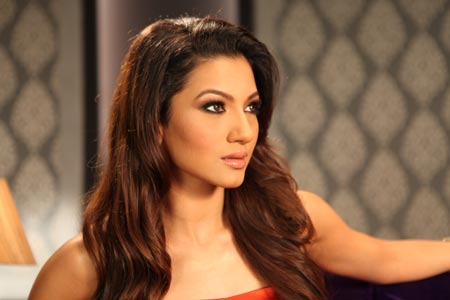 It was a risk though, isn't it? Yes, it was. See, it may sound like a cliché but I have always maintained that I am an actor to begin with. Whether it was films or otherwise, I have lived on to be that part. For example, if I walk the ramp then I dramatise my walk as well. So it's a matter of finding an opportunity. I remember 'Zangoora' coming to me just a month after the release of Rocket Singh - Salesman of the Year. I took it up immediately. I have never really followed the norms when it comes to my stint with acting. People around keep telling you that if you don't look like this or that then you can't become an actor. I have not fallen into this trap. Are there any plans for the show to go international now? Initially I was told that 'Zangoora' would tour the world so yes, I would love to do something international as well. I feel that sky is the limit for something like this. I am a dreamer. When I used to watch shows on Broadaway then I used to wish that something like this comes to India. Of course there was a limitation of me not being a singer but then may be I really wanted it so much that for the first time ever when a production like came in India, I was the chosen one. Now what are the odds for that (smiles). I just grabbed it. In the last three years gone by, have there been any special moments? Yes, the one when Rakeysh Omprakash Mehraji came on the launch. After the show, he walked up to and said that while he liked what he saw, he couldn't get his eyes off me. He felt that I had good control on my scenes. Now that was a memorable compliment. Then of course Vishal Bhardwajji said that he would love to work with me. I couldn't believe this; it made me feel that everything was worth it after all.

You did something worthwhile in your last release Ishaqzaade as well. What happens next from here? I am looking forward to many more challenging roles. See, whether it is Ishaqzaade, Game or Rocket Singh..., I have seen some good appreciation coming my way. For my song 'Parda Parda' in Once Upon A Time In Mumbaai, critics even said that I came closest to legendary Helenji. When you hear things like this, you don't pick up anything frivolous. In fact I am up to something really exciting but I would like a formal announcement to come in. Meanwhile what happens to your association with 'Zangoora'. Have you had enough of it? (Laughs) Not at all. I would want it to go on forever. May be, I would do one show a week for 'Zangoora'. Yes, films are where my heart is and I want to continue as an actor. Still, while I want to do some good stuff as an actor on screen, I am still not done with 'Zangoora'.