Salman
Khan and
Shahrukh
Khan's public hugs have made headlines and this Khan duo totally enjoys it. While their animosity and friendship both make for good headlines and spicy tales, we tell you few reasons why the Jai Ho star and Happy New Year's hero's coming together is a delight to watch and take you down the memory lane through three best hugs of
Sallu-SRK
!
Salman
Khan recently in an interview confessed how competing Bollywood actors love to bring each other down, trust us both these Khans have spared no opportunity to poke fun at each other – be it interviews or then award shows you will see ample of
SRK-Salman
war designer for commercial viewing. If taking digs at each other is their pass time, then bringing the Khan war at the box office is their
favourite
hobby. So every time one Khan breaks the other one's record there is an open challenge and an untold war that is declared. Not to forget the Bollywood camps, they have a fixed set of friends, co-stars, directors. However slowly these clearly drawn lines of
Salman-Shahrukh
camp is blurring. So, then will we see them hug and make up?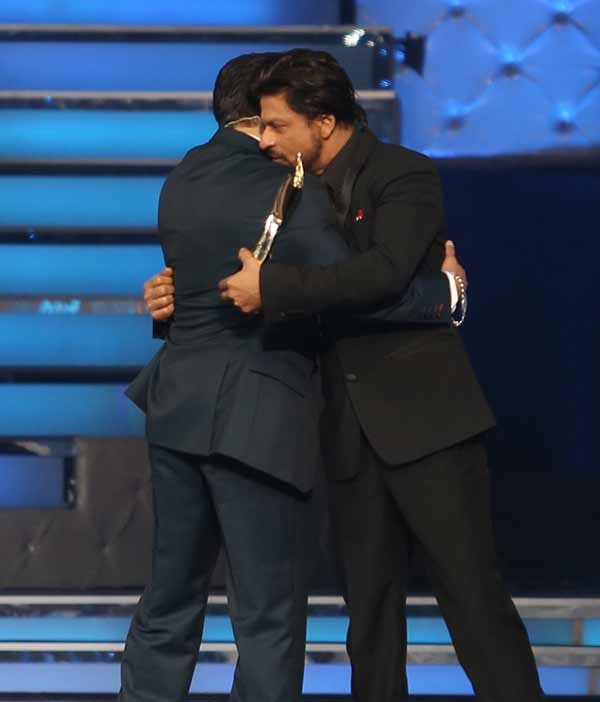 We wish, but according to
Sallu's
writer father it's a mission impossible. The
Salim
Khan explained why, "They are two individuals, grown up people. I think there cannot be love between rivals. There can be courtesy. To have love between
Salman
and
Shahrukh
is not possible. One should not expect that if
Shahrukh's
film is a success then
Salman
will dance and celebrate. Or if
Salman's
film is a hit so
Shahrukh
will throw a party. It's not possible." But, at the recently held
Guid
Awards both the Khans hugged each other in full industry and media glare, which became yet another moment. Here's a look at three such moments that had us in a tizzy!
Salman-Shahrukh's
Jai Ho moment: It was
SRK's
time to celebrate his win at the Star Guild awards this year,
Salman
handed out the trophy to his arch rival for the best entertainer of the year. But he had already made it obvious why 2013 wasn't a great for Bollywood. According to
Sallu
last year was a
bakwaas
year as he did not have any release. And even if he congratulated
SRK
on stage he made sure that King Khan became a part of his Jai Ho promotions. The best
Iftaar
party in town: Thanks to
Salman
Khan exchanging a warm hug with
Shahrukh
and greeting him, politician friend Baba
Sddiqui's
iftaar
bash became the most popular event of 2013. The first time warring Khan's had ever come together after their big fight at ex-girlfriend Katrina
Kaif's
birthday party.
The big
'OSO'
moment!: Farah Khan had brought together best friends turned foes, both on and off screen. The warring Khans were once
chaddi
buddies willing to share their awards on stage at one point, often spotted partying together. However things changed when this duo got embroiled in an argument on the sets of
Chalte
Chalte
. What followed was
Salman's
then girlfriend
Aishwarya
Rai's
ouster from the film and the big fight between the Khan buddies. But Farah changed all that and got them together in one of the most fun and memorable song from her debut as a director Om
Shanti
Om.