"I would like to get linked up," actress
Kangna
Ranaut
declares without any qualms when you gets curious about her single status in life. " It has been two years now (since the last
rumours
about her). It is making me a very boring person," she laughs. The actress hits a more pragmatic note the very next moment and says, " I used to get linked up with everyone around so I look at it from a very detached point of view now." Despite no current link- ups or
rumours
, the 26- year- old
Himachali
beauty has a clear- cut notion on what she wants in her man. " At this age and stage, I will not get attracted to Mr Wrong. I want someone who is not very materialistic. He should be very overtly ambitious, but also a chilled out person like me." However, marriage is not on her priority list. " Girls should not settle down in their
20s
and
30s
. Everything comes to a standstill.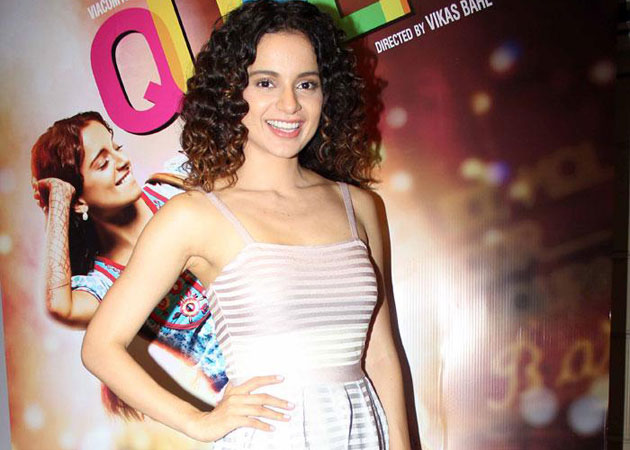 Girls should get educated, explore life and make money. You need to evolve as a human being first, like I did when I went for a script writing course and learnt baking. Maybe in the future I'll learn new languages," she says. The script writing course in New York, she says, was fun. " It is one of the best things I have done for myself. I was working for many years, so going back to school and sitting in a classroom felt refreshing. It helped me push my limits," she recalls of the experience that she had to leave midway to complete her filmy commitments. She plans to go back to New York in June to complete the course.
Controversies, temper tantrums and linkup
rumours
have been a part of her image as much as the strong roles she usually portrays in heroine- centric films. She played the title role in her last release
Rajjo
, which tanked at the box office. The actress will be seen in title roles in her next two films too- Queen ( which releases this Friday) and Revolver
Rani
( which will open later this year).
"When you are the protagonist, the story follows you. All these female-oriented movies are extremely fulfilling for me as an artist. As a creative person you get to evolve more and contribute more. I am enjoying it to the fullest," says
Kangna
, winner of the National Award for Best Supporting Actress for her role in Fashion ( 2008). "On the other hand, in multi-
starrer
movies, you have to match your dates with the hero's , and he will decide when the schedule will kick off. You'll definitely not be on the priority list," the actress adds.
Queen on talent show
Kangna
was at her ethnic prettiest on the sets of India's Got Talent . Her multi-hued
Anarkali
with matching
dupatta
and traditional accessories were to highlight the traditional
Lajpat
Nagar
girl she plays in her upcoming film Queen .
Kangna
watched the show with judges
Malaika
Arora
Khan,
Kirron
Kher
and Karan
Johar
, and later took to the stage to jive to the number London
Thumakda
from Queen.