Akshay
Kumar, a complete family man, tries to take as much time out possible from his busy schedule for his two kids. "Since getting married, I have always tried to reach home early," says the actor, adding, "As a bachelor, I would keep working but these days I like to get home early to meet my kids. Hearing them call me 'dada' or 'dad' makes me feel a complete family man. I love to spend most of my leisure time with my kids and family."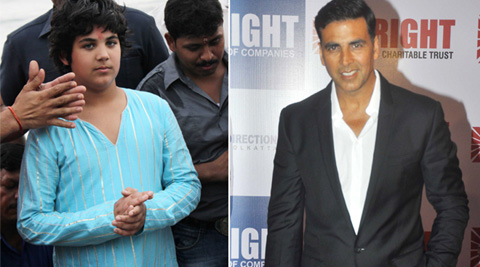 "I always take about six to seven days of
chutti
once every three months just to spend quality time with my children. I coincide my leaves with the holidays of my elder son
Aarav
. I go to my small little cottage in Goa for a few days. But for my annual leave I take off to America, Greece or Thailand," says the actor.
Akshay
makes a conscious effort to keep the kids away from the world of glitz and
glamour
. "I want my children to grow up as normal kids. I do not want them to frequent the sets or elsewhere connected to the
filmi
arena." But
Aarav
is following his father's footsteps as far as martial arts is concerned. "Not many know that
Aarav
is a Brown Belt.
He has even got a national award for the same. It feels great to see him follow my footsteps in martial arts. I also train him from time to time."
Akshay
Kumar is now waiting for a green signal from the government for training kids. "I have a martial arts school where kids are trained. I am keen on opening training schools all over India and for the same I have submitted an application to the government. I am hopeful of getting a green signal." About his celebrity wife Twinkle
Khanna
, he adds, "Twinkle is happy in her own space. She does not want to enter films again and is very happy with the kids. Also, she is busy with her fashion design business."