Guess what is the source of gossip and controversy this time? It's
Aamir
Khan's "God man infused"
PK
. The Bollywood movie has been nursing controversies since the day it has been released. It may be gathering plenty of cash at the Box Office but has earned the scoffing of plenty of religious flak. The self proclaimed rightful protectors of religion claim that it has offended the religious sentiments of many though the Industry
walas
swear loyalty to
PK
,
Hirani
and
Aamir
Khan.
Bajrang
Dal
furiously started to vandalize theaters relaying
"PK"
in Bhopal and
Ahmedabad
. Plenty of cameras caught these activists damaging the theaters screening
PK
. This attack has been scoffed and looked down upon by the industry
walas
. They have tweeted in support of
PK
and
Salman
Khan commented his support to
Aamir
pledging his friendship indirectly "Is
PK
not an amazing film?" said the "Kick star".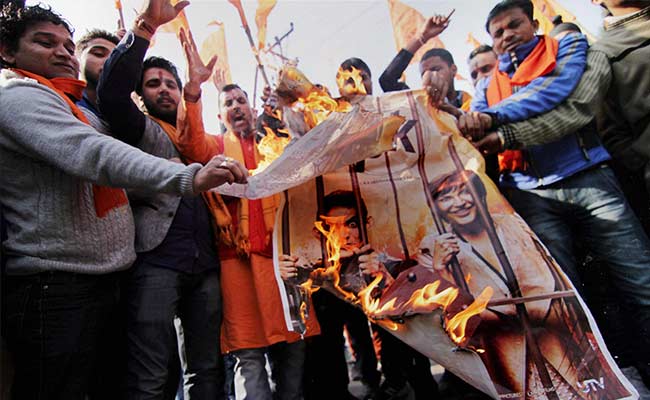 Pooja
Bedi
gave her viewpoint and stated "God wants SPIRITUAL FRUIT.. not RELIGIOUS NUTS!!
LLet's
support #
PK
. I love the bit in #
PK
when
aamir
says.. God created earth, planets. Galaxies &universes & u a mortal are "protecting" that gigantic force?". Not the one to be left behind,
Aamir
Khan's co-actor of
Dhoom
3 ,
Udai
Chopra tweets "What a wonderful film #
PK
is...just saw it and I'm bowled over by it. It is the most important film that every Indian should see. Salute!" Talking in favor of
PK
, Bollywood producer
Ritesh
Sidhwani
said "
PK
is a must watch. I am a believer and nowhere does it hurt our sentiments or questions religion. In fact it teaches you to love. And not fear in the name of God. What it rightfully does is questions the so called messengers and their role between us and our belief." Unable to resist his comments , Karan
Johar
remarked, "Attacking a duly censored film has to stop!!! What kind of a democracy are we living in?? No film should be targeted or be allowed to..,#
PK
." Condemning the aggressive attack, Filmmaker
Vivek
Agnihotri
tweeted a piece of his mind and said "If we all are so enlightened than why do we need a film like #
pk
to question the pimps of religion. Isn't it common sense? All those
gundas
attacking cinema halls showing #
pk
must be arrested immediately and locked up with
Asaram
."