There are some female actors whose beauty overshadows their acting prowess. Rekha is a prime example of this. She made her Bollywood debut at a very young age and, after struggling to make a mark during her initial years, she underwent a major physical transformation. After that she shot into the limelight as one of the sexiest actors of her time. But Rekha dabbled in some serious acting too, and even did several roles in parallel cinema, in Ijazat and Ghar in the 80s. Her characters have been re-played by many female stars of this generation, but could they match up to the way the original diva did it? You tell us…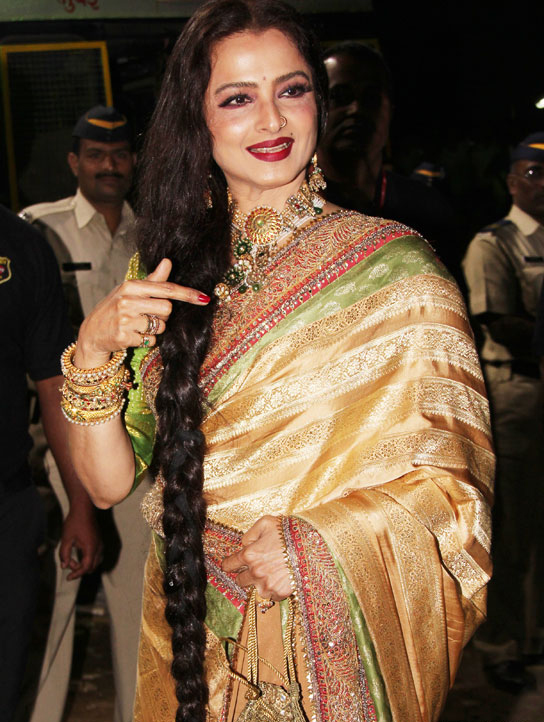 Rekha in Umrao Jaan- Aishwarya Rai Bachchan in Umrao Jaan Rekha's adaayein and her sensuous mujra performances are remembered even today. Rekha won a National Award for her portrayal of a courtesan in this movie. When Aishwarya decided to step into her shoes for the remake of the film, there was talk about whether Ash would manage to pull it off or beat Rekha's unforgettable act. We must say that though Ash is a beautiful dancer, she just couldn't recreate the same magic. Blame the director if you like, but truth is that this film didn't leave a mark.

Rekha in Muqqadar Ka Sikander- Madhuri in Devdas Rekha portrayed a courtesan yet again in this movie. This time, she falls for Amitabh Bachchan who is in love with Rakhee, who is in love with someone else; a pained Amitabh turns to Rekha for solace. Muqqaddar Ka Sikander was, in that sense, the Devdas of the 80s. Rekha's character had an uncanny resemblance to that of Chandramukhi in Devdas. In 2000, Devdas was remade and Madhuri played the role of Chandramukhi. She managed to bring out the same sensuality, grace and beauty that Rekha did in the 80s hit.

Rekha in Khoobsurat-Kareena Kapoor in Jab We Met While Kareena won several accolades for her energetic and talkative character in Jab We Met, Rekha had portrayed a similar character in the 80s. She won a Filmfare Award for her role of an upbeat and naughty girl. Kareena too won a Filmfare Award as best actress for her role in Jab We Met.

Rekha in Silsila-Rani Mukherjee in Kabhi Alvida Na Kehna Rekha played the love interest of much-married Amitabh Bachchan in this 1981 movie. Rekha's character is married to Sanjeev Kumar, but she has an extra-marital affair with Big B in this one. It was quite a bold character to play for a mainstream heroine at the time. When Karan Johar made a film on the same subject in 2004, he chose Rani Mukerji to play the role of a married woman in love with another man. Rani's act was much talked about, but could not match up to Rekha's in Silsila.

Rekha in Biwi Ho To Aisi- Madhuri in Beta Rekha plays the bahu of the house who is married to a dutiful son played by Farooq Shaikh. Rekha decides to fight her tyrannical mother-in-law in her own style with the support of her henpecked father-in-law. Madhuri's character in Beta is quite similar to Rekha's. She too decides to change the dynamics of the house by getting back at her mother-in-law in a cunning manner. Her father-in-law and servants aid her in that. Both Rekha and Madhuri got a lot of praise from the critics and the audiences for playing the strong woman.