Mumbai Academy of Moving Images (MAMI), founded by Hrishikesh Mukherjee, started off in its 13th year with a blast as several Bollywood filmmakers and actors walked the red carpet for its inauguration. Although Shyam Benegal, a regular, and face of the festival by now, gave it a miss. His absence was conspicuous as the rumour mills went working overtime contemplating his no-show.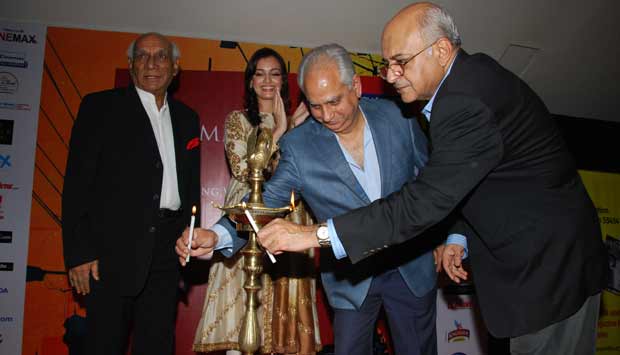 This time around, the festival has decked itself to become a platform for filmmakers to explore new talents. Dressed in a heavy Indian outfit with a simple hairdo, Bollywood actress Dia Mirza lighted the inaugural diya and marked the beginning of the festival.

Taking the festival to a different level is the liberal approach given to people as they interact with Bollywood filmmakers. With an increase in the number of screens, there is no space crunch anymore. With a grandiose look, foreign filmmakers like Hugh Hudson, who is also on the jury of the festival in the capacity of president, have touched down to interact with the Indian filmmakers.

Lady for the night, who lit the lamp along with other dignitaries, Dia Mirza was hopeful for the fest. Gracing the event were veteran filmmakers like Yash Chopra and Ramesh Sippy. Also actors like Gulshan Grover and Kabir Bedi attended the first day to show their support to a 'serious' film festival. The festival started off with the screening of Oscar nominated film Money Ball.

Usually excited about all kinds of events he helps organise, veteran filmmaker Yash Chopra who has spent 52 years in Bollywood says, "It is great to see MAMI start off in such a grand manner. I am looking forward to it and hope it gets bigger than before." And like Chopra, who prefers not to wax much eloquent about events where he does not have adequate knowledge, Ramesh 'Sholay' Sippy also wished the best for the festival. "It is great to see the festival with such a good opening. My best wishes are with it. And I am very excited to see the fresh talents," added Ramesh.


Lady for the night, who lit the lamp along with other dignitaries, Dia Mirza was hopeful for the fest, "MAMI is growing bigger every year. Mumbai is the capital of Indian movies so we should make it a huge success and take care of it. We should carry the momentum with this flow. I am very much excited this year as on the opening day it started off with an Oscar nominated movie. Rather than commercial films movies with great subjects are screened here. We will find all the serious public in this fest who understand cinema. We need to make it a big one. If any of my movies should have been screened here, then I think it should have been Lage Raho Munnabhai."

Crossover actor Gulshan Grover who has traipsed from Bollywood to Hollywood and back, who was present on the occasion was a tad more clear in his words. "It is great to see the diversity in the film industry. In MAMI we can see the kind of movies which we cannot in normal theatres. Here only unique and different subject films are displayed. So I am very much keen to see those movies. It is great to see that MAMI is growing bigger and better every year. I am very happy to see the great progress," says Gulshan. "I want to keep a special screening for my Hollywood film Desperate Endeavors as we could not catch the last date for the entry of this film," he added.

Another veteran artiste, Kabir Bedi too showed his fondness for the festival as he said, "MAMI is really growing bigger and better this year. I am looking forward to it. It is great to see the unique movies because normally we do not get the opportunity to see them onscreen."