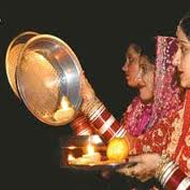 'Karva Chauth' an age old tradition has become glamorised and more keenly celebrated now than it ever was. A big factor behind this change is Hindi films. From Karva Chauth songs to colourful decorations, and from well-dressed wives with all their accessories in place to the picturesque vision of diyas floating in the lakes, the moon surely looks more beautiful on this day than any other!

Though we have seen Karva Chauth scenes in a few recent movies, one of the earliest films to have a Karva Chauth sequence was 'Maang Bharo Sajna'. Released in the 1980's, this movie starred Jeetendra, Rekha and Maushmi Chatterjee. 'Biwi Ho To Aisi' is another movie that featured the festival in one of its scenes. However, the first film that showed a larger than life 'Karva Chauth' ceremony was Suraj Barjaty'a 'Hum Aapke Hain Kaun'. Suraj Barjatya, known to make family dramas, showcased Karva Chauth ostentatiously with the participation of the entire family.

Yash Raj Films' 'Dilwale Dulhaniya Le Jayenge' (DDLJ) Karva Chauth probably marked the turning point of 'Karva Chauth' celebrations. The beautiful film made such an impact that people from all over India began to celebrate the festival. 'Karva Chauth' became the ultimate fast and the ultimate symbol of true love.

The 'Karva Chauth' trend was carried forward by films like 'Judaai', 'Biwi No.1', 'Raja Hindustani', 'Humare Dil Aapke Paas Hai' , Karan Johar's 'Kabhi Khushi Kabhie Gham', the Amitabh-Hema Malini-starrer 'Baaghban', Sanjay Leela Bhansali's 'Hum Dil De Chuke Sanam'...

Says director Satish Kaushik, "Festivals bring colour. It's a good way to show family unity, or the bond between a husband and wife. Sometimes it also helps bring to the fore the way the character feels for the 'other woman' or 'other man'. Festivals in movies are more symbolic than anything else. It's a way of characterisation and also helps in taking the story forward. Such social occasions in movies also lend to commercial viability of a project. One has the liberty to add a nice song and dance sequence, and do something nice with it."

Seema Malani, a self-employed young, married, girl says, "Karva Chauth is always beautiful. I fast, but my husband also fasts out of choice. The celebrations are shown beautifully in the movies. I'm sure it's thanks to cinema that more people are aware about Karva Chauth and even observe it. It has surely become a trend. Also, the other activities that come with it like the mehendi and the shopping, and women getting together and the song and the dance makes the festival so much more enjoyable. These side activities are thanks to the movies."

Films like DDLJ and Hum Dil De Chuke Sanam have also started the trend of lovers fasting for each other even when not married. Aishwarya Rai imagined Salamn Khan in the song 'Chand Chupa Aanchal Mein...' and not her reel-husband Ajay Devgan, while Kajol created an incident in which it was Shah Rukh Khan who fed her the first sip of water while breaking the fast and not her going-to-be-husband. Though Karva Chauth is a fast kept by married women in the North for the long lives of their husband, many couples in love, even if unmarried, tend to live on love and fresh air just for that one day....