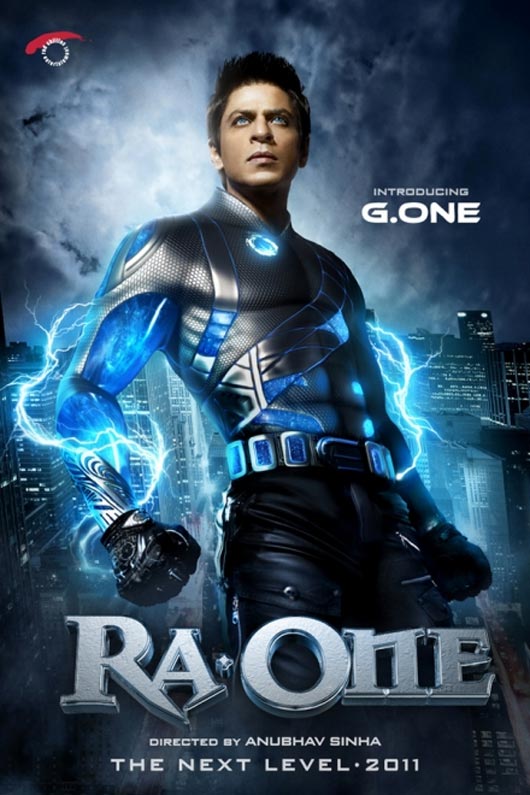 It was a movie that was supposed to cement Shah Rukh Khan's place as the undisputed box office king. Ra.One, Khan's most ambitious project so far, opened in over 3200 screens across the country and was supposed to beat the hell out of Salman Khan's Bodyguard that had opened in 2,800 screens during the Id weekend in August. By sheer numbers and the publicity overdrive that Shah Rukh khan had gone into, Ra.One seemed set to beat Bodyguard's opening day collection even before it was released.

Trade pundits had predicted that the movie's first-day collections would break all previous box office records and were positive that it would manage to cross the magical Rs 21-crore mark (that Bodyguard had set) making it the top Hindi grosser of all time. Yet when it did release on October 26, Ra.One struggled, faltered and failed. Bollywood trade is a slippery business. The handful of trade magazines that publish box-office collections week after week rarely agree upon the exact figures.

Yet according to initial reports it seems safe to say that Ra.One hasn't succeeded in beating Bodyguard's first-day collection at the box office. Media professional and industry observer Abhijit Mhamunkar says, "The opening day collections of Ra.One are somewhere between Rs 15 and Rs 16 crores. In spite of the ticket prices being increased and the film opening in more screens than ever, the movie doesn't even seem to come close to the first day collections of Bodyguard (Rs 21 crores)."

While Bodyguard had opened in 2,800 screens across India and the first-day occupancy ranged between 85 per cent and 100 per cent, Ra.One opened in around 3200 screens with the first day occupancy ranging between 75 per cent and 80 per cent. To make things worse, the movie received a mixed response from the critics as well as the initial audience (that can sometimes be crucial in driving the collection). Many from the audience felt that Shah Rukh did not live up to the hype that he created.

Ra.One was also dubbed and released in Tamil and Telugu too but Suriya-Shruthi Haasan starrer Tamil film 7am Arivu and Vijay's Tamil film Velayudham have been preferred over Ra.One. "The reviews of 7am Arivu and Velayudham have been really positive and people in south India are more eager to watch these films rather than watch a dubbed version of a Hindi movie," Mhamunkar says adding that one will have to wait and watch how the dubbed versions do over the next four days before passing any verdict.

One of the things that was supposed to work in Shah Rukh Khan's favour was the 3D version of his film. According to trade pundits the uniqueness of seeing their superstar in 3D could have driven the collections in smaller towns. However Khan and his team failed here too as the 3D prints of the movie failed to reach several cinema halls on time. Till Monday night, it was uncertain whether the 3D release would make it in time as the producers seemed unable to meet the deadline but Shah Rukh had confirmed that they would go ahead with the 3D release on time.

Sunil Punjabi CEO of Cinemax India also confirmed this."There were two problems that happened yesterday. The 3D prints of the movie were not able to reach the tier-2 cities in India till late afternoon because of which we had to cancel around two to three shows in each city. Secondly, the evening collections showed a serious dip since many Hindu families stayed back at home for (Laxmi) puja and festivities.On an average the first day occupancy (in Cinemax theatres) is between 75 to 80 per cent."

Bollywood trade analyst Komal Nahta said that the movie points out that the movie may have done better had it released on October 27, a day after Laxmi Puja. According to him too the movie has collected around Rs 15-16 crore on the first day, which he says is 'stupendous'. "Ideally the film should have released a day after Laxmi Puja, which is traditionally not good for business since in almost every house the puja takes place in the evening. (So it wasn't surprising to see) the collections take a beating in the evening. Taking into consideration these factors, I feel that the first-day collection has been are stupendous," he says.

He also suggests that 'Although the film may have failed to break the opening day record of Bodyguard, Ra.One has set a new record for Diwali day collections.' According to Boxofficeindia.com Golmaal-3 (2010) had managed Rs 9 crore, Om Shanti Om (2007) had Rs 6 crores and Golmaal Returns (2008) had manged to collect Rs 5.75 crore on the opening day of Diwali It remains to be seen however if Shah Rukh Khan will be satisfied with this consolation prize. Unless Don 2 manages to do the unthinkable when it releases on December 23 this year, it is Salman 1, Shah Rukh 0.