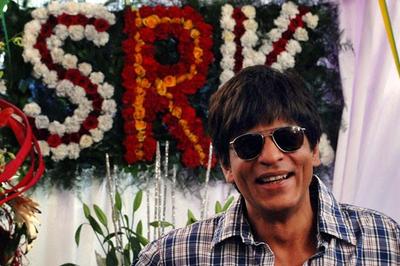 Darr and Baazigar were among those movies that established Shahrukh Khan in Bollywood. In 1993, Khan won acclaim for his performances in villainous roles as an obsessive lover and a murderer, respectively, in the box office hits, Darr and Baazigar. In Khan`s entry in Encyclopedia Britannica`s "Encyclopedia of Hindi Cinema" it was stated that "he defied the image of the conventional hero in both these films and created his own version of the revisionist hero." Darr marked his first collaboration with renowned film-maker Yash Chopra and his banner Yash Raj Films, the largest production company in Bollywood.

Today (November 2) is the birthday of Shahrukh Khan. On behalf of his fans, we would also like congratulate him on this occasion. Baazigar is a 1993 Indian Hindi film directed by Abbas-Mustan. Inspired by the novel A Kiss Before Dying, it is a contemporary thriller about a young man who stops at nothing to get what he wants.The film shocked its Indian audience with an unexpected violation of the standard Bollywood formula, with an ambiguous hero.

Successful at the box office, this was Shahrukh Khan`s breakthrough role as the sole lead and also Shilpa Shetty`s debut film. Baazigar was also the first film where Shahrukh Khan played a negative role and the first film in which he was paired up with Kajol. In the movie Khan portraying an ambiguous avenger who murders his girlfriend, shocked its Indian audience with an unexpected violation of the standard Bollywood formula.His performance won him his first Filmfare Best Actor Award. In that same year, Khan played the role of a young musician in Kundan Shah`s Kabhi Haan Kabhi Naa, a performance that earned him a Filmfare Critics Award for Best Performance.

Apart from acting awards, Khan has been awarded several honours which include the Padma Shri, India`s fourth highest civilian award from the Government of India in 2005.In April 2007, a life-size wax statue of Khan was installed at Madame Tussauds Wax Museum, London. Another statue was installed at the Musée Grévin in Paris, the same year.During the same year, he was accorded the Ordre des Arts et des Lettres (Order of the Arts and Literature) award by the French government for his "exceptional career".There are also statues in Hong Kong and New York. The journey of Shahrukh Khan, which was started over two decades in Bollywood, has recently given another very interesting film Ra One to his huge fans.