Heartbreaks spur creativity or so proclaims Rockstar, Ranbir Kapoor's latest drama. If that belief holds good, then this Bollywood blue-blood should be on artistic fire. His ex-girlfriends Deepika Padukone and Sonam Kapoor even went on a chat show and openly thrashed him by making veiled references to his infidelity and his multiple liaisons.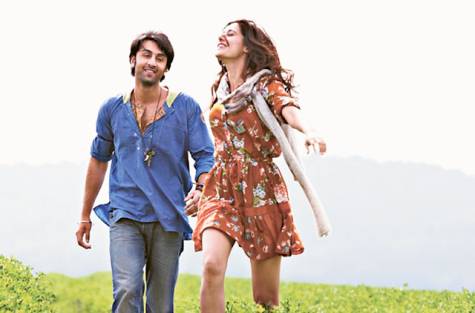 But Kapoor, who's unsurprisingly fast gaining the reputation of a playboy, tells he's left all that behind him. He has even made plans to work with his former flame Padukone in romantic comedy Yeh Jawaani Hai Dewaani. Ahead of his visit to Dubai today to promote Rockstar, tabloid! caught up with the 30-year-old over the phone as he explained his world for us. "I surrendered completely to the role."

My role as the Jat [a north Indian caste] boy from Delhi Janardhan and his journey as a musician is a role of a lifetime. It has been both an emotional and a physically challenging experience for all of us. And since I play a Jat, it was important that I get to know them personally. It was also essential that I live with them, observe the way they talk and how they live with their family members to get into the skin of the character.

"I stepped out of my comfort zone." In Wake Up Sid, I played a city-based slacker whom I could relate to. I could play that character without much preparation. But in Rockstar, I want the audience to see less of Ranbir Kapoor and more of the character I am playing. "If you haven't undergone heartbreak, you can't play this role."

An actor needs a reservoir of experience and a tank of emotions that they can bring to work. If you haven't gone through heartbreaks and let downs then it makes your job as an actor a lot tougher. I have felt emotions like love, jealousy, pain and hurt. And I believe that my experiences will help viewers connect with me as an actor. I always bring an army of emotions onto the sets.

"I feel uncomfortable talking about my dark, personal experiences." The heartbreaks that you see in films are exaggerated. It's often larger than life. In life, it's not so elaborate. But honestly, I am uncomfortable talking about personal stuff. "I have learnt not to care about link-ups."

There was a time when I used to cringe when I heard rumours about me being a Casanova. But that was at the beginning of my career. Now have learnt not to take these reports seriously. And mind you, these link-ups surface when a film is closer to release. And when I heard reports about Nargis and me, I just ignored it. I care a lot about her and I admire her talent. We are very connected with the project. Caring about somebody doesn't mean I am having a relationship with all of them. I am an actor and my job is to act.

"I am not misunderstood." I am just at the wrong place at the wrong time. I have been rewarded a lot by the media and the industry. I am very grateful for that and I don't have any angst for what's written about me. "Shammi Kapoor is the original rockstar of India." It was such a big privilege acting alongside him. We can't believe our good fortune that Imtiaz and I could work on his last film. Even after all that he has achieved, he still has that humility about him. He was still nervous before shooting a scene and was doubly excited when the scene went off well. It was just heart-warming to see him in action.

"I look forward to working with Deepika." I am aware about the baggage that we both come with. But I think our job as actors is to make people forget about the baggage we carry and to make the love story of a lifetime. I am doing this film because I love the character narrated by director Ayaan [Mukherjee]. Who he casts opposite me is not something that I will never dictate. I am willing to work with anybody. Both Deepika and I have come to a place where we are comfortable with each other. We have both moved on. I only did quarter of a film in our earlier hit Bachna Ae Haseeno. This time I hope to have a full-fledged feature with her.

"In real life, I don't feel like a Rockstar." I am still the same guy who's consumed by a desire for a brighter future. I want to work and do good work. I hope to have this burning desire and this drive to work all my life. Rocking Dubai today The Rockstar team — Ranbir Kapoor, Nargis Fakhri, Imtiaz Ali and singer Mohit Chauhan — have a packed schedule ahead of them in Dubai. At 2pm, the team will meet students of the University of Wollongong Dubai followed by a media junket. They will call it a night by hitting the decks at the [email protected] Lodge at midnight. Follow us on twitter @GulfNewsTabloid for live updates.