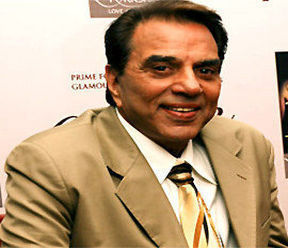 The He-man of Bollywood, one of the handsomest actors and an idol to the aspiring actors- Garam Dharam celebrates his birthday today. Dharmendra has spent 51 years in Bollywood and doesn't really care about terms like Badshah or Shahenshah of Bollywood, but prefers to be addressed as 'Darling D' of B'town. While thinking about his huge contribution to the Hindi cinema and many characters he portrayed, one of which is the inimitable Veeru from the all-time blockbuster Sholay, one surely gets nostalgic.

The superstar claims that his journey and success in Mumbai is the result of the love and affection bestowed on him by his fans and about the same, he says, "Yes, I am so happy that people like me and like my work. The only thing I have learnt in life is everyone is equal and it's the responsibility of each one of us to spread the message of love."

The actor has been a part of a reality show and claims that small screen has huge reach and also the fact that he would love to entertain his fans by entering the TV sets. "Small screen is not at all small, as it has reached all the areas. I give importance to it. Hamare chote bhai Amitabh Bachchan, small screen pe Big B ban gaye. I can't be Big B, but wish to be Darling D of TV," chuckled Dharamji.

Dharmendra, the evergreen actor, who's known for his memorable romances on screen, believes that talent is something which makes a superstar. Hema Malini directed him in Tell Me O Khudda and talking about his experience of working with his dream girl, an overwhelmed Dharamendra said, "It was a fantastic experience, as it's great to work with the people you know. Work is worship and we used to work a lot." "I wish to continue with my work and entertain people for many years and just wish they keep on loving me and appreciating my work," expressed a delighted actor. We wish the superstar a healthy life and prosperity.