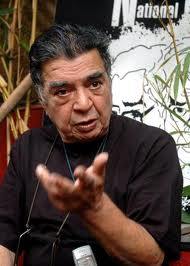 Noted theater personality Satyadev Dubey passed away on Sunday (December 25) leaving a huge void in the world of Indian arts and drama. He was 75.Dubey slipped into a coma after suffering a massive epileptic attack. He had been in hospital since September 2011.Bollywood paid rich tributes to the man, who had assisted many actors through his theatre workshops. Here is what the stars had to say.

Anupam Kher: The Giant of Hindi Theatre Satyadev Dubey is no more. He was ruthlessly brilliant in his commitment to theater. Great loss. RIP.

Neha Dhupia: "Saddened to hear of Dubeyji's demise. Will miss him. RIP."

Mahesh Bhatt: "Satyadev Dubey, the icon of the theater world has passed away! Fond memories of our days of wandering invade me. Alvida Dubeyji! Love."

Madhur Bhandarkar: "A brilliant theater actor and extraordinary screenplay writer, Satydev Dubey's demise is a huge loss to the industry. RIP!"

Ranvir Shorey: "Saddened to hear of Dubeyji's demise. Will miss him. RIP."

Ken Ghosh: "Sad to hear of Satyadev Dubey's demise. He had very kindly conducted an acting workshop with the all new cast of Ishq Vishk."

Born in Chhattisgarh, Dubey had initially wanted to become a cricketer. Later, however, joined a theater group headed by Ebrahim Alkazi. After Alkazi left, Dubey took over the theatre group.

Some of his major plays include Yayati, Aur Tota Bola, Hayavadana, Badal Sarkar, Aadhe Adhure and Khamosh!