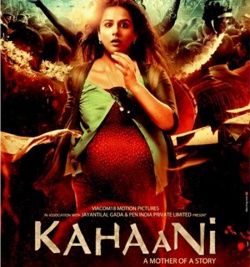 This movie is touted as a thriller, and the trailer wholly does a job a thriller should: giving you gooseflesh.
And while we have still not gotten over the mind-boggling performance Vidya Balan gave in The Dirty Picture, looks like she is all set to bowl us over again with Kahaani! After watching the trailer, you feel there is a sudden transition in Vidya from a sexy avatar in The Dirty Picture to a pregnant woman in Kahaani; perhaps that is what versatility is all about!
The trailer shows
Vidya
Balan
as the helpless pregnant lady who is in search of her husband in Kolkata! However, the text flashed in the trailer How do you find a man, who does not exist -- leaves you playing the guessing game about what the story of this movie can be. Warning: The ending of this trailer is not for the weak hearted!
Watch the first trailer of

Kahaani

here: