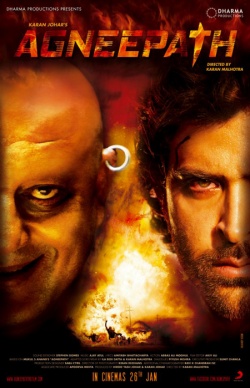 The film opened to a mind-blowing response from the audiences at box office; long queues could be seen at multiplexes as people jostled to buy the tickets.
The occupancy on Thursday ranged between 90 percent to packed houses. In fact, the advance booking of the tickets has set the cash registers ringing and considering that the film has a four-day weekend, it will doubtlessly emerge as the FIRST BLOCKBUSTER of 2012.

Read: 'Agneepath' movie review But here's the crucial point. Records do matter.
Though the film has wowed the critics and audiences alike, it has, as an added bonus, apparently broken the box office record for the highest first-day collection ever for any Hindi film.

So far, Salman Khan's Bodyguard held the coveted record with the first-day collection of Rs. 21 crore.
As per the initial reports that are beginning to trickle in, Agneepath has touched that mark on Thursday, and probably even surpassed it.
The distributors and the producers are ecstatic over the response to Agneepath. Congratulations to the cast and crew and the makers of Agneepath. The film has set a storm at the box office.