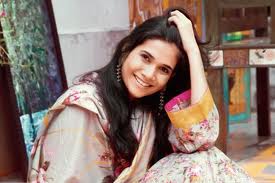 "From skin to spirituality, it is all in the paint," mused artist Trishla Jain, who recently opened her second solo exhibition - 'Tangerine Trees and Marmalade Skies' at Gallery BMB in Mumbai. The who's who - from the art world to the swish set, to Bollywood, the ad industry, fashion and business world - thronged to have a peek at the marvelous show. Trishla's connection with literature manifests in her artwork where her paintings are accompanied by text. "Words are like brush strokes for me now," she says. Like the "found" objects (Trishla calls the works in her second solo show as "found paintings") in her creations, she has incorporated her favorite phrases of well-known authors and artists which intellectually adds another layer to her artwork.
'I stepped into the bookshop and breathed in that perfume of paper and magic that strangely no one had ever thought of bottling.' These words find place just above an old almirah filled with memorabilia that has been in her family for about four generations. There is a similar wardrobe which is part of her current exhibition at Kiran Nadar museum in New Delhi. Said Trishla, "My grandmother believes that everything on this earth is beautiful even if it is an obsolete camera."Actor Imran Khan noted, "It is all so vibrant, layered, symbolic and full of energy. I have never seen an art show like this before."
Ad guru and theater personality Alyque Padamsee felt, "She has the guts to break tradition. Each painting has a fresh idea. It is a commentary about today's life. Paintings are emotional but her thoughts are very youthful."It is so eclectic and something different. There is an amalgamation of a lot of things here. There need not be logic to everything," said actor Bikram Saluja. Lines from Shakespeare nuzzle up to Mevlana's ruminations, a collage of jewellery cutouts spill across a table, a lone sparrow sits on a tree, a wooden horse's rump bears a smile.Tangerine Trees and Marmalade Skies will be on display at BMB Gallery, Fort till March 4.