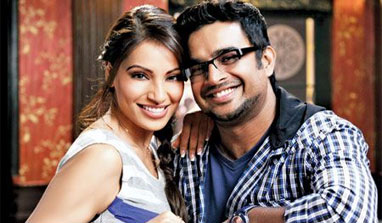 Bollywood actors Bipasha Basu and R Madhvan, who have received positive reviews for their rocking chemistry in recently release 'Jodi Breakers', are quite hopeful that their latest flick will be liked by the audience. The actors have claimed their film to be unusual.

"We are very excited. It's too early to say anything but I know that the music is a hit and I know that people who had seen the film yesterday have loved it and we have got some very positive reviews. So we are keeping our fingers crossed," Madhavan said. Bipasha insisted that the film has received interesting reviews and has been appreciated by the people.

"We have come here with a very special film 'Jodi Breakers', with a very dear co-star of mine Madhavan. Talking about our unusual chemistry, it is unusual but I think it has caught the fancy of people," she said. "We have got some interesting reviews, right from the time our first promos were out. People have liked us, the songs are loved together and ultimately it's a romantic film, though we have a little wicked spin to it and we are talking about being jodi breakers. "Finally it's a romantic film, it's a film that celebrates love. So all the people who are interested in having a little bit of a love and then to feel romance, please come out and watch 'Jodi Breakers'," she added.