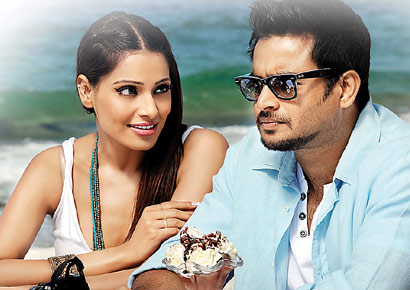 What does a man who's just gone through a rather bitter divorce do? Simple, he becomes an expert marriage-breaker, helping other warring couples get an easy divorce. So, there's Sid (Madhavan) who makes a living out of helping spouses get out of the out-of-love marriage. After a rather convenient chance meeting with a hot-looking Sonali (Bipasha), the two pair up as partners in this business of breaking pairs. And quite a rocking business it is too. From helping a boxer get rid of his nymphomaniac wife to helping a wife get rid of her husband on religious differences — the husband thinks he's God, but the wife thinks not! All is well, till things get complicated between the two jodi-breakers when love strikes. Sonali believes in fairy tales and Prince Charming, but Maddy who's not ready for commitment, refuses to admit his love.

The two part ways, but then get back to set a wrong right when they unknowingly end up breaking a 'loving' couple. The first half provides some decent laughs, even though it relies heavily on jokes with sexual intones why, even the hero's car is called 'horny'.Most of these laughs are brought about by Omi Vaidya, who though still hung on his 3 Idiots accent, does a good job here. Milind Soman and Dippanita Sharma are fairly decent too. But despite a promising first half, the second half of the film is predictable and borders on the boring, and after a point there's just nothing left to look forward to.

Madhavan is cutely endearing all through the film, and Bipasha's simply gorgeous. Together, however, the chemistry barely manages to go beyond the cute line and reach the sizzle that romcoms need, to work. They both seem extremely comfortable with each other, the camaraderie shows, but they look more like pals than lovers right till the end. The supporting cast that includes Helen, give strong performances, but nothing can lift the spirit as the film descends slowly into boredom, quite a contrast with the complete peppy feel of the first half. The film lacks the wow factor, but is not bad for a few moments of light entertainment at all.