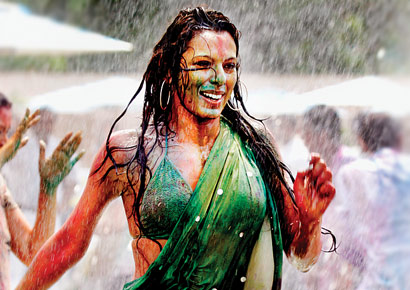 With most of Bollywood A-listers shooting out of town in the coming few days, this time around B-Town may see a dip in the number of Holi bashes being thrown to celebrate the festival. "Even if there are no full-fledged parties, there will be enough of impromptu get-togethers for sure to not let it be a thanda affair," reveals a source.

The Holi bashes at the Bachchans' household are almost as legendary in B-Town as the Raj Kapoor Holi bashes once were. And this time around it's going to be a rather special one too, as it's Beti B's first Holi. And with actor Amitabh Bachchan recuperating well at home, a Holi party for family and close friends is said to be on the cards.

Among the others who may be hosting impromptu Holi bashes include Shabana Azmi and Javed Akhtar, also filmmakers Sajid Nadiadwala, Sajid Khan and actor Akshay Kumar, though they are expected to be very private affairs. Actor Salman Khan too is said to be catching up with friends and family at his Panvel farmhouse for Holi, while Shilpa Shetty with hubby Raj Kundra and actor Sanjay Dutt may host a joint Holi bash.

However, Holi party regulars, filmmakers Sanjay Gupta and Ekta Kapoor may not be hosting a joint Holi bash like they had the previous year. "Tusshar Kapoor is going to be away promoting his film, while Sanjay is busy shooting, so Ekta has nothing planned as of now. But an impromptu bash is likely if her telly brigade insists her to have one," says an insider. Meanwhile Sanjay alongside his cast and crew of Shootout At Wadala including John Abraham, Kangna Ranaut and Anil Kapoor is likely to celebrate Holi on sets.

Actor Shah Rukh Khan, who is in London shooting with Katrina Kaif for the Yash Chopra film are all expected to celebrate Holi on the sets as well. "There's a huge diaspora of Indian population in London, so the celebrations are in the air and it's likely that SRK and Chopra will end up celebrating the festival there. Also considering how big a name they both are in London, they are expected to be hounded by fans on the sets there," reveals a source. Actor Hrithik Roshan and dad filmmaker Rakesh Roshan are expected to be in Hyderabadshooting for their film, but chances are that wife Sussanne and the kids may fly down to celebrate it with them.