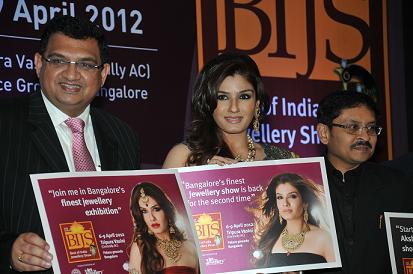 The second edition of Best of India Jewellery Show (BIJS) is scheduled from April 6 to 9, 2012, at the beginning of the jewelry buying season starting with Akshay Tritiya and followed by the wedding period. BIJS, Bangalore's finest consumer jewelry exhibition, is a joint initiative of The Art of Jewellery and the Jewellers' Association Bengaluru and has signed a Bollywood star as its brand ambassador.

''We are delighted to have signed the Bollywood star Raveena Tandon as the brand ambassador for BIJS 2012 and her popularity will surely ensure high footfalls," said Sumesh Wadhera (pictured left side of the group), managing director and publisher of The Art of Jewellery.

''Our multi-pronged promotional campaigns are meticulously planned and well executed to excite the consumers and create awareness,'' he said. Tandon (pictured above in center of the group) stated, "BIJS 2012 brings in the promise of the best jewelry collections from across India to its consumers and I am so excited to be a harbinger of this promise."

The consumer jewelry exhibition to be held at Palace Grounds in the southern Indian city of Bangalore will display an array of exquisite daily wear and designer jewelry in silver, gold and diamond from leading retailers of south India. "BIJS 2012 addresses the long felt need of consumers in this city and with the jewelry industry's support, we can make this show, a strong, credible, and viable platform," Pathi Mahesh (pictured to right side of the group), chairman of BIJS, concluded.