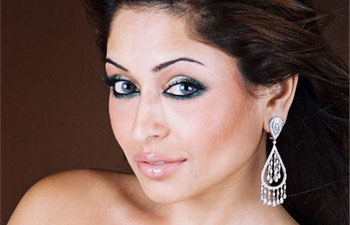 In showbiz, it is said even negative publicity is good for your career. Struggling starlet Tarina Patel has bagged a Bollywood film in the wake of a much publicised incident. Tarina is the wife of South African businessman Iqbal Sharma who made news following his spat with actor Saif Ali Khan in a Mumbai restaurant on February 21.

An actor, who has struggled for roles in Bollywood, Tarina will now feature in a prop role in comedy caper Malamaal Weekly 2 , starring Nana Patekar and Shreyas Talpade. The film is the sequel to Priyadarshan's 2006 hit, Malamaal Weekly , and is currently being shot in Wai, a village near Mumbai. "Tarina was seen shooting in Wai along with Nana and Shreyas. The shooting has been going on since the last few weeks," a source said.

The starlet had been trying her luck in Mumbai during the past few years and had essayed small roles in films such as Bhool Bhulaiyya , Just Married , Dhol and Dus Kahaniyaan . Tarina is best recalled as the " girl in a golden bikini" in the episodic Dus Kahaniyaan - in the segment titled Sex On The Beach along with Dino Morea. Following the brawl, when Iqbal had lodged a police complaint against Saif, Tarina was seen liberally giving interviews to the media. She alleged that her husband and father were bashed up and bullied by Saif and his friends.

According to Tarina and Iqbal, Saif along with his girlfriend Kareena Kapoor, Malaika Arora Khan, producer Bilal Amrohi and Shakeel Ladakh ( husband of Malaika's sister Amrita) were creating a ruckus inside the restaurant. When Iqbal asked them to lower their voices, Saif lost his cool and punched the businessman, leaving him with a fractured nose, they alleged. Tarina had vehemently denied that this was a mere publicity stunt.

"We don't need any kind of publicity in this way," Tarina had said, after Kareena, in one of her interviews, said Tarina and her husband were trying to gain mileage from the episode. "Before this episode, my husband didn't know who Saif and Kareena were," Tarina claimed. For now, the limelight that has come her way seems to have worked. She has now reportedly hired a publicist who is managing her PR activities and Bollywood projects.