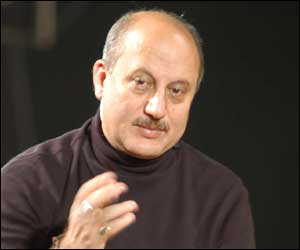 With Indian actors getting opportunities to act in international projects, veteran actor Anupam Kher feels that Bollywood is going through one of its best phases. Kher, 57, whose fifth international project 'The Silver Linings Playbook' with Hollywood star Robert De Niro will hit screens on November 21, said the world is recognising the potential of Indian entertainment industry.

"We are in a golden period of Indian entertainment industry because the audience is educated and understands the importance of a good script. World needs us now for their economic benefits and the talent. Their movies are doing good business and they are setting up their offices here. It time to be the part of global cinema," said Kher. After giving more than 450 films, Kher feels that he has also given his best works in last ten years be it in 'Maine Gandhi Ko Nahin Mara' or 'Khosla Ka Ghosla'.

"Even I have recognised myself as an actor. First fifteen years were my struggling period. I got some really good work in last ten years. So, whatever was coming my way I was doing it with dedication and desperation," he said. Kher, who plays the therapist of Bradley Cooper in his much-awaited international project, said working with stars like De Niro and Cooper was phenomenal. "Robert De Niro is the God of acting. You learn so many things about him by just being with him on the sets. When I gave my first shot with him I got emotional and not because that I was working with the man I have always dreamt of but because my tough journey that finally helped me stand with him.