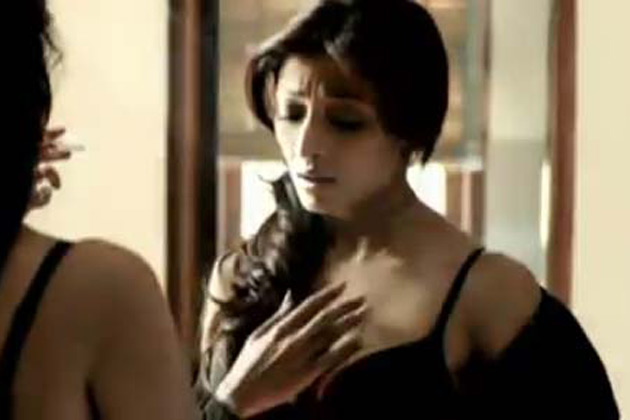 "Do you have Paoli Dam's nude clip from Chhatrak? Can you forward it to me?" I have been asked this question on Google Talk, direct messages on Twitter and mobile text messages countless times. Most of these people, some of them friends, have only a vague interest in Bengali cinema. They hadn't heard of Paoli until her short sex clip from Sri Lankan director Vimukthi Jayasundara's controversial film appeared on YouTube. It did not matter that Paoli has worked with some of Kolkata's best known art house filmmakers. Most of the people who wanted to see that clip thought nudity in mainstream cinema was preposterous.

With her Bollywood debut Hate Story is about to hit the screens on April 20, 2012, the interest has shifted from the clip to the trailer in which she proclaimed "Main is sheher ki sabse badi r**** banna chahti hu (I want to be the biggest whore of this city). The trailer gave an insight into the film's explicit scenes and bold dialogue. It got people talking about the film. Hate Story is produced and written by Vikram Bhatt who is not known for underplaying the sensuality of his heroines.

"There is a thin line between vulgarity and sensuality," Paoli said when I asked her whether her choice of subsequent films with explicit scenes was intentional. She had said earlier that she had no artistic inhibitions about filming nude scenes if it added sense to the flow of thought. "Look at world cinema. Explicit films are being made on a range of subjects. We should get that liberty," she said.

Her explosive oral sex scene in Chhatrak (Mushroom) caught the attention of Bollywood filmmakers and landed her Hate Story, a revenge drama. But in the hushed drawing room discussions, obsessive curiosity, snarky jokes on social networking websites and cautious appreciation, the debate has shifted from whether Paoli's lack of inhibition heralded a new age of cinematic freedom to whether using nudity would prove to be a convenient marketing alternative.

Paoli, who has worked with directors such as Buddhadeb Dasgupta in the TV series Gangaur, Rituparno Ghosh in Shob Charitra Kalponik and Goutam Ghosh in Kalbela and Moner Manush, raised the hackles of conservatives with her full frontal nude scene in Chhatrak.
Interestingly, most of the shock stemmed out of the fact that she was shown as the receiver of pleasure in an explicit oral scene. In Indian cinema, the woman's role in intimacy has always been a matter of dissent. Should she get as good as she gives? Should she sacrifice her needs for those of her husband? In a land that worships the genitalia of Lord Shiva, the popular opinion is condescendingly protective of the woman: It would ruin her career and typecast her as someone who is easy to persuade to shed her clothes.

There are a handful of actresses who gingerly stepped a toe into that zone. Nandana Sen in Rang Rasiya and Rii in Gandu are among them. Both films have had trouble with the censor board and public screenings.

"Hate Story is bold, it is explicit but it is very aesthetically done and beautifully shot. I am playing a girl next door, a journalist, a normal girl who has been ditched and betrayed badly. She has lost love, and she lost her right to motherhood. This is the boldest film of this year, of any year. And it's high time that people get mature," said Paoli.

In India experimentation often remained limited within art films with morality guiding the hand that held the camera or the paint brush. Indian audiences, with their long association with a rich culture of cinema often associated the personal traits of their matinee idols with the characters they played on screen. Which is why Rajinikanth could do no wrong, Amitabh Bachchan persuaded by legions of distraught fans to quit politics and Hema Malini remained the virtuous and kind role model for women who hoped to snare the prince.

The duality in Indian films is deep rooted in social behaviour. For most films in the 80s, tackily shot and edited, rape scenes were played out extensively as alternative to the real thing. Rapists were always punished but the thrill could not be denied to the audience. The submission of Madhuri Dixit in the famous scene in Dil where an angry Aamir Khan corners her in a barn in a mock rape attempt is nothing but a voyeur's secret fantasy.

Paoli said she wanted to do all kinds of films. So what if they had skin show? "I am not a very insecure person. I want to good cinema, wherever it is. I'm in no hurry," she said. Thankfully the trend is reversing. We may not inherit European cinema's relaxed attitude towards sexuality but we may get there eventually.