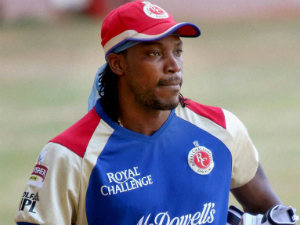 Royal Challengers Bangalore's explosive opener Chris Gayle, a nightmare for bowlers, insists on continuing his good form till the end of the tournament. Gayle, who scored an unbeaten 128 off 62 balls, to help RCB register a convincing 21-run victory over table toppers Delhi Daredevils feels the team should continue to perform well and shouldn't be complacent.

"We next play Deccan (Chargers), looking to continue in the same vein," he said after the high-scoring match at the Feroz Shah Kotla on Thursday. Gayle's fireworks helped Royal Challengers Bangalore to secure 17 points off 15 games and stay afloat in the tournament as they find themselves in a situation wherein they need to win their last league match against Deccan Chargers as well to stay alive in the tournament, as three teams are battling it out for two play-off spots.

The Jamaican praised Daredevils' bowling attack and termed it as one of the best as Morne Morkel has been excellent throughout the season. Though he was not a part of the playing XI on Thursday, the team looks balanced as others also contributed to the team.

"They have got one of the better bowling attacks in the IPL. Morne Morkel (rested for the match) missed out but they have a very balanced team. It was important for us to win in Delhi," said the Orange Cap holder, who has already amassed over 700 runs in IPL V.

Talking about the change in his approach, he had resorted to watchful play at the start of the innings. "It's not deliberate to be honest. At times you get off to solid starts. On occasions the bowlers bowl four good balls. You have to respect the bowlers, the good deliveries. When asked if he has undergone any transformation over the last few years, the Jamaican said he has been the same.

"Once you get set on a good wicket and in a small ground, you can take it from there. When you get the chance you have to cash in on it," said Gayle, who, though, is not bothered about the statistical peaks he has been scaling in the IPL. Asked if he has undergone any transformation over the past few years, Gayle said, "(I am the) same Chris, enjoy the game. Guess, I get more sleep."