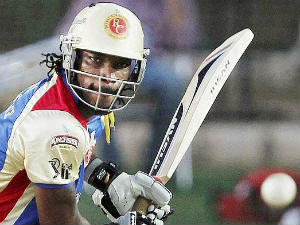 Deccan Chargers skipper Sangakkara praised his batsmen for putting up a good show against Royal Challengers Bangalore as they won by nine runs to knock the opponents out of IPL 5 in a crucial tie on Sunday. Sangakkara pleased with his team's performance in the last two matches, also felt a score of 140 was a good one on the wicket as it was difficult to score runs, but said the only x-factor was RCB's Chris Gayle, as the tall Jamaican has the ability to change things around in RCB's favour, provided he gets to spend some time at the crease.

"After going through the first four-five overs I thought of getting 140. I thought that would be great score on this wicket. But the only x-factor in the RCB is Gayle. If he gets 10 overs, he can take any game away from the opponents," after his team's nine-run win over RCB at Hyderabad on Sunday.

Deccan Chargers' batting wholly depended on JP Duminy's innings, as they had lost four wickets for 51 runs within 12 overs, which narrates the tale of the top order. While Duminy's 53-ball 74 changed the scenario as Sangakkara's XI posted 132/7 in 20 overs.

Sangakkara praised his batsmen especially JP Duminy for his magnificent half century as the team posted a decent total against RCB and finally knock them out of IPL 5 as they fell short by 9 runs. "I thought JP (Duminy) batted magnificently, everyone else managed to chip in well and kept the score board ticking. And that's the way the game goes, to get to manageable total on a wicket that is two-paced, get a couple of wickets and then exert pressure and it turns your way," said Sangakkara after his team knocked RCB out of IPL 5 in a crucial tie on Sunday.