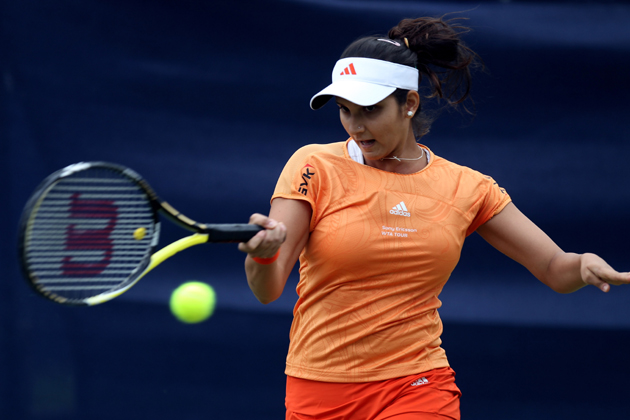 Runner-up at Roland Garros last year, Sania Mirza is beaming with confidence going into this year's edition. She has a reason to be optimistic. Sania has a chance to win her second WTA title this Saturday in doubles, partnering Bethanie Mattek-Sands in the summit clash of the Brussels Open. Lest forgotten, she also notched up the 500th win of her career in the same tournament earlier this week.

The French Open assumes a great deal of significance for Sania. The rankings to be released after the Grand Slam will determine whether she has gained an automatic entry for the London Olympics. The top 10 players on the list, which will be declared on June 11, will gain an automatic entry for the Games. Sania, at this point, is ranked 11th. "Every iplayer on the circuit is focussing on the Olympics now.

I've tried everything I possibly could to stay n the top 10 in order to qualify for the Olympics. I never worry about things beyond my control," she told DNA on Friday. Sania will be partnering Mahesh Bhupathi in the mixed doubles in Paris, perhaps an indication of whom she wants to team up with at the Olympics. She has remained tight-lipped about it so far, saying she "doesn't want to interfere in the selectors' job."

For now, she's focussed on Roland Garros. In the French Open doubles, Sania will continue to pair up with American Mattek-Sands. After her fruitful journey with Russian Elena Vesnina, with whom she reached the final in Paris last year, Sania is excited about her association with Mattek-Sands.

"I've won 13 doubles titles with nine different partners. I won in Cincinnati in 2009 with Bethanie. We've also played the quarterfinals together at Wimbledon (2008) and the US Open (2007) and I'm looking forward to going deep in tournaments with her again," she said.

She has had a decent year in doubles. In Brussels, she'll feature in her third final, including the wins in Indian Wells and Dubai with Vesnina. Should Sania prevail, it'll be her second title this season after Pattaya. Naturally, she is focussing only on doubles, a decision necessitated by injuries and poor run in singles this season. Ranked 192 in singles, she agrees playing both the formats week after week is demanding. But boy, hasn't thefocus on doubles paid off well!