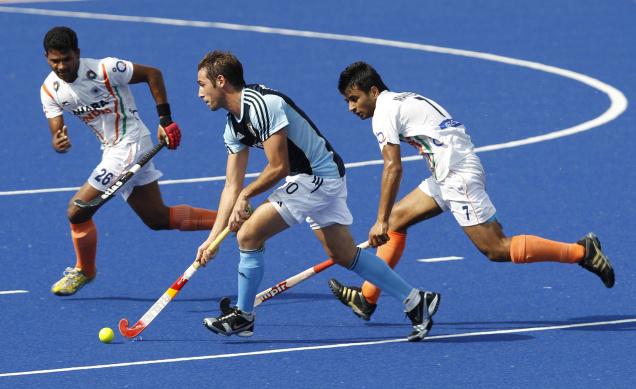 India went tumbling down the valley of defeat in a matter of seconds shortly after resumption when the scoreboard was blank. But Argentina eventually emerged a 3-2 winner in the Sultan Azlan Shah hockey tournament on Wednesday. The outcome came as a shock. But the Indians looked lost and forlorn for no palpable reason. The overall show was laborious, lacking in fluency, flair or fervour. Appalling errors occurred, facilitating an easier victory than expected for Argentina.

It is no consolation that India finished with only a one-goal deficit. In fact, it was India that had appeared dangerous at least in the first quarter but the side progressively withered away. Opting for circumspection, the Argentines were never really in a commanding position.

Dharam Vir created a series of moves helped by Sardar Singh from the mid-field. The attack rarely prospered enough to alarm the Argentine defenders. The only penalty corner that India eked out at this stage was neatly saved by goal-keeper Vivaldi off Sandeep Singh. Uthappa and Kothajit functioned far more effectively while Sarvanjit was totally inept. Sunil and Tushar did nothing to inspire confidence either.

Horrendous confusion

Patience and persistence paid off for Argentina within seconds after resumption. A horrendous confusion in the mid-field gave Manuel Brunet the space to move in. It ended in a flick by Mathias Parades that caught off-balance goalie Sreejesh, who was unsighted by Sandeep Singh as the ball bounced past him.

Before the cheers died down, Argentina was up with the second. A fumble by Sarvanjit Singh paved the way for Montelli Santiago gleefully exploiting the opportunity given on a platter as it were. Bewildered by the turn of events, the Indians had no option but to accelerate.

That was not easy as the gap between the mid-field and the attack became enlarged rendering accurate passing a difficult proposition. It was Sardar Singh's opportunism that brought India's the goal midway. A penalty corner by Raghunath was blocked by Vivaldi. Off the rebound, Sardar, who was the pusher, produced a deceptive reverse shot to put India on the board.

Argentina forged ahead through a goal by Pelliet Gonzalo, enlarging the margin to 3-1. A perfect penalty corner drive by Raghunath brought some hope with more than nine minutes remaining. India had another penalty corner during this part, but Raghunath's drive flew over the post. With that, India's last chance to share points was lost. Interestingly, India had lost 4-2 to Argentina when the teams met last in the New Delhi World Cup, 2010.

Chances missed

Mohamed Riaz, who addressed the post match conference, conceded that India had forked up enough chances but failed to make capital of out of them. With nine points from five matches, Argentina has strengthened its chances of a podium finish. For India the outcome against Pakistan on Thursday holds the key; and it goes without saying that a contest with Pakistan is a lottery. Great Britain warmed to the status as favourite by edging out New Zealand with a near flawless display.

The 2-0, with goals from Ashley Jackson and Matt Daly, established in the first half remained on the board till the Kiwis struck through Andy Hayward eight minutes from end. Britain thus stopped New Zealand's run of wins three from three played and took its tally to seven points from four matches. Malaysia staged a superb rally to overpower Pakistan after trailing 0-2 midway in the first session and 1-2 half time.

The mach winner surfaced in the last minute from Muhammad Razie. Earlier, Faisal Saari netted a peach of a goal, working in tandem with Tajuddin, early in the second half to level 2-2. The results: Argentina 3 (Mathias Paredes, Santiago Montelli, Pelliat Gonzalo) bt India 2 (Sardar Singh, Raghunath). Great Britain 2 (Ashley Jackson, Matt Daly) bt New Zealand 1 (Andy Hayward). Malaysia 3 (Ahmad Fuzi, Faisal Saari, Muhammad Razie) bt Pakistan 2 (Umar Butta, Shafqat Rasool). Thursday's matches: Great Britain v Korea (1-35 p.m. IST); India v Pakistan (3-35 p.m.); New Zealand v Malaysia (6-35 p.m.).