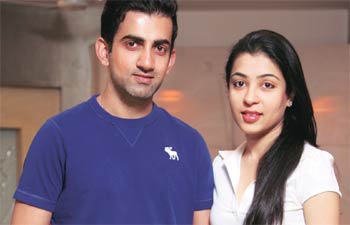 Kolkata Knight Riders skipper Gautam Gambhir calls it Operation Total Transformation, a year long process that helped his team beat Chennai Super Kings with dramatic finality to win the Indian Premier League, capping a season of exceptional performances.

"The victory hasn't sunk it yet. I am happy the team worked as a cohesive unit, we bonded well. I told everyone that small is big. Do not ridicule small contributions: the 15 runs on board, a great save, one maiden spell. It all works," he told Mail Today in an interview.

When he took over the KKR captaincy in 2011, the team was passing through its worst crisis. He helped the team finished fourth and sat with the management to build a champion team. He said he remained patient with underperforming players and praised their nuggety contributions. "The combination worked. We shaped some core players and continued with shuffles, the biggest coming in the finals when Bisla replaced McCullum. But it worked because the team worked."

The captain kept himself out of the limelight, despite finishing with the second highest aggregate of the season. He averaged 36.87 at a strike rate of 143.55 and scored 590 runs in 17 innings. He said it was important to lead from the front but stay out of the limelight. It helped the side -- barring Shah Rukh Khan, the co-owner, there was no star factor for KKR.

"I told everyone, you want individual fame, play an individual game. Then cricket is not for you. Here, you play for the team. Even if you fail, I will back you," said Gambhir in what appeared to be a direct reference to Yusuf Pathan, a $2.1 million investment, who performed only once, but took KKR to the final.

Gambhir agreed that the first two losses against Delhi Daredevils and Rajasthan Royals caused tensions within the side but the team regrouped fast. "(Coach Trevor) Bailey worked wonders with the boys, so did (Wasim) Akram and (Vijay) Dahiya. The rainbow coalition was back in action."

There were other factors that helped the men in purple. Gambhir said buying Sunil Narine for $700,000 was a perfect testament to KKR's foresight. The relatively unknown Trinidad and Tobago spinner finished the season with a haul of 24 wickets at 13.50 and an economy rate of 5.47. "It was important to prove to India that cricket is a team game, and hopefully we've done that in this IPL. KKR is not a man, KKR is a team. Every decision was for team ethics and cricketing reasons."