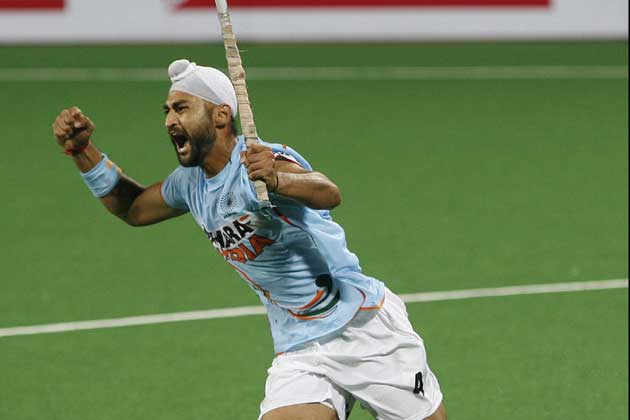 An overawed Indian men's hockey team, which has 14 of the 16 men making their Olympic debut in London, got off to a losing start against Netherlands, but they will like to leave the past behind and get full points against New Zealand on Wednesday, when they take on the Black Sticks in their second Pool B encounter of the Olympics hockey competition.

On Monday, India played their first Olympic match since eight years and were clearly intimidated by the No. 3-ranked Orange brigade. But it promised a lot to see them get settled and fight from a 0-2 deficit to draw level and rattle the Netherlands at one stage. And against New Zealand, they shouldn't settle for anything less than a win.

The Kiwis, who had also lost their opening encounter to Korea 0-2, will look to open the wounds of defeat they inflicted on the eight-time Olympics champions not too long ago, when they beat them 5-1. However, should India hold their nerves and play like they did in the second half against the Dutch, the Black Sticks will have plenty to worry about.

The combination between Tushar Khandker, Shivender Singh and SV Sunil was almost non-existent against the Dutch. And While Sunil showed glimpses of his ball-control at speed down the right flank, he seemed to panic when surrounded by the orange shirts and lost possession. Among the young brigade, SK Uthappa was guilty of carrying the ball for a bit too long or releasing it in panic of losing possession against the Dutch. Sardar Singh came into his own in the second half and it made the difference. Against the Kiwis, the star Indian centre-half will have to produce that consistency for the length of his stay on the pitch.

India clearly look a different side when Sardar controls the midfield and feeds the forward. And with the butterflies in the stomach settled, India should be able to show New Zealand the improvement they have made over the last year.

But the area where India need to be more opportunistic is the penalty corners. They couldn't score off the two they got against the Dutch, and if Sandeep Singh doesn't happen to be at the pitch, they seem to be undecided about their options. That needs to change as well, with players like VR Raghunath stepping up to the plate and deliver in Sandeep's absence.

Attacking hockey pleases the eye, but only if you score one more than the opposition. India's weak defence is not a secret anymore but we have the forwards who can compensate for that. For teams like India who like to attack playing open hockey, getting first on the scoresheet always helps. That's what the team should strive for on Wednesday and press on from there. Scoring first helps teams that like to play aggressively. That's what India should strive for in London 2012 hockey.