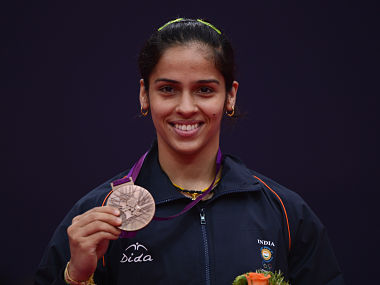 In 2006, not too many of us were live-tweeting Saina Nehwal's matches, nor were we following her every move. But that was the year a 16-year-old Saina created history by becoming the first Indian woman shuttler to win a four-star tournament – the Philippines Open. She was understandably thrilled, but the reaction I most remember was that of her mother Usha Rani when I asked whether there would now be celebrations at home.

"Kaisa celebrations beta? Abhi ek tournament hi to jeeta hai. Olympic medal to nahi jita na (What celebrations beta? She has won just one tournament. She hasn't won an Olympic medal yet)" Usha Rani retorted to the query. Six years later, Saina has done exactly that, but I have a feeling that celebrations at the Nehwal home and in Saina's mind will still be muted.

Even as a teenager who would be perpetually on the court for the whole day playing in under-13, u-16 and u-19 singles and doubles, Saina was always raring for a fight and hated if an opponent failed to turn up for the match or conceded the tie midway. The youngster would take pride in the fact that she could beat all of them on the court and even when she was playing the seniors never liked anyone taking things easy just because she was young.

There was also the single-minded dedication to the cause of winning an Olympic medal and hence when she was picked to replace the injured Aparna Popat in the 2006 Commonwealth Games team championship, Saina did not alter her training regiment drawn out by coach Pullela Gopi Chand. "She continued with the strenuous training regime that was chalked out by Gopi despite the fact that she had to play matches later," Popat had said in praise of the then 16-year-old.

That dream could have been fulfilled in 2008 itself but the unheralded shuttler succumbed to her nerves on the verge of winning her quarterfinal encounter against Maria Kristine Yulianti. Saina later explained how she got nervous and wanted to finish the match and in the bargain failed to execute the plan. Saina then went on to win many international titles but the focus on the Olympics never wavered.

That dream also helped her overcome the differences with Gopi Chand that cropped up in 2011. Despite maintaining her top-5 ranking in the world, Saina was aware that something was amiss in her game and if she had to be among the contenders for the Olympic medal she needed to patch up with her mentor. It definitely helped that Gopi Chand was also in favour of forgetting the disharmony and the duo worked together for almost 8-9 hours every day with just one aim in mind – an Olympic medal.

She went to London high on confidence and would have loved to annihilate the Chinese challenge just like she did with her earlier opponents on the way to an Olympic glory. But that was not to be. She lost to world number one Yihan Wang and was down a game when Xin Wang decided to concede the bronze medal match due to a knee injury. It is difficult to comprehend what would be going on in her mind. There was no victory lap nor an acknowledgement of winning a medal as the 22-year-old walked away from the Wembley arena court after enquiring about Wang's injury.

She gave away very little in her post match comments when she said, "I still can't believe that the match is over and I won a medal. It was my dream to see the flag go up. I have never won a match like this before." The dream has been fulfilled. Contacting Usha Rani isn't as easy as it was back in 2006. But I wonder if today, I ask her about the celebration plans, what would be her answer.