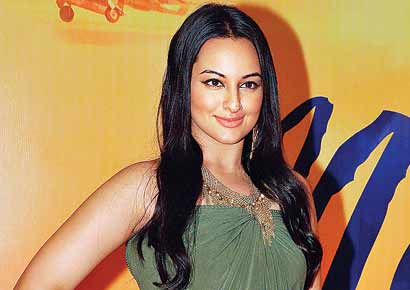 If Ajay Devgn rode horses and Sanjay Dutt drove powerful jeeps for their forthcoming Diwali release Son Of Sardaar, leading lady Sonakshi Sinha couldn't have been left behind she tried her hand at riding a bike. Portraying a Sikhni look, Sonakshi held her breath and balanced herself perfectly on the two wheels to perform a few stunts for the action comedy, which releases Nov 13.

The actress is said to have been a tad apprehensive when she was told that her entry scene would be on a bike and she also had to do some antics on the mean machine. Sonakshi, daughter of Bollywood's Shotgun Shatrughan Sinha, decided to take the challenge head on, albeit with some guidance from co-star Ajay.

"Sonakshi has never driven a bike before, so she was quite anxious about riding and performing stunts on the bike. So Ajay helped her to ride the bike," said a source. "She practised it several times and then when she performed the sequence for the final scene, she took the entire cast and crew by surprise as she did it with so much perfection," the source added. Son Of Sardaar, directed by Ashwini Dhir, is co-produced by Ajay Devgn Films and YRV Infra & Media (P) Ltd Production.