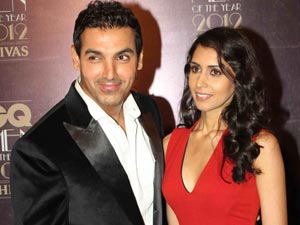 Unlike many Bollywood stars, John Abraham is one such actor, who doesn't like to speak much about his personal life in public. But, Johnnie boy surprised us a while ago, when he expressed his love for present girlfriend Priya Runchal. During a recent interview, John left us clueless and confused, when asked about Priya again.

When a leading daily asked him about his marriage with Priya, John said that he is indeed clueless about his own marriage. "It has to happen when it will. I have no clue. But as of now I am enjoying my time with my parents," he said. Oops John! we are here asking you about your wedding, not about your parents. In fact, he rubbished the queries about his secret marriage.

A while ago, John was all praise for his girlfriend Priya Runchal. He had also confirmed that he would marry her by this year. He also revealed his first meet with her. "I met Priya through a common friend, there was an instant connection. I can talk to her about anything. Ours is a very honest relationship. We can tell each other everything. That's a benchmark for a healthy relationship," he said.

John had also said that he's a very impulsive guy and might get married to his ladylove anytime he wishes. He had also said that Priya is the perfect match for him, "since I can be myself with her. There are no pretenses. We don't even fight, though we argue sometimes." Well, this has really confused us. The guy, who had once spoken so extensively about his new found love for Priya, today seems complete mum about her. John, who had confirmed that he would get married this year, is now clueless about it. Moreover, he has revealed that he's enjoying his time with his parents, and not girlfriend Priya? How come a guy, who went gaga over his girlfriend a few months back, has no single word for her today? Does this mean, that all is not well between John and Priya? Well, that's just a speculation that we can make and the rest Johnnie boy himself knows!