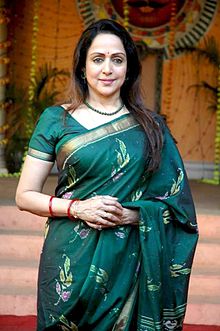 One of Hindi cinema's most successful actresses, Hema Malini, celebrates her birthday today. The Bollywood 'dream girl' turns 64 this Tuesday. Appearing in over 150 films in a career span of 40 years, Hema Malini has starred in a number of successful films, and her performances in both commercial and parallel cinema have been appreciated nationwide.
During her career, she has been nominated 11 times for the Filmfare Award for Best Actress, of which she had won the award once in 1972. Hema Malini is a trained Bharatanatyam artist. Her radiant personality eased her portrayal of various avatars of Hindu goddesses, the most prominent being Goddess Durga.

In 2007, Hema Malini enthralled all when she performed in Mysore on the eve of Dusshera, where she played the roles of Sati, Parvati and Durga. She had also played the role of Goddess Durga in the TV serial 'Jai Mata Ki'.

In 2000, she was presented with the Filmfare Lifetime Achievement Award. In the same year, she was honoured with the Padma Shri, the fourth-highest civilian honour, by the Government of India. We wish Hema Malini a very happy birthday!