Katrina Kaif is the real player in Bollywood, no we are not saying this but it's Katrina who is giving all the indication for us to believe so. Katrina takes a dig at Salman Khan in Kolkata while she was at the inaugural ceremony of the Kolkata International Film Festival.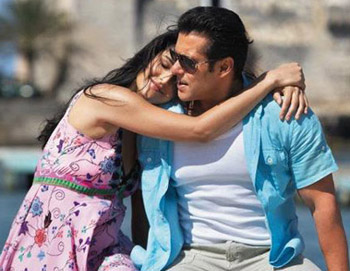 The actress, who has made headlines for her oh-so-interesting bond and sizzling chemistry with Salman, had claimed, "Salman is like my big brother". As expected this statement from the gorgeous actress created quite a stir and everyone's jaw dropped.

So what was Katrina doing with Salman Khan in a cozy bike ride - showing sisterly affection we guess! There were rumours over the last few months suggesting trouble between Katrina Kaif and Salman, in reality they continue to share a happy bond. A picture taken by a fan was posted on Facebook where Katrina was seen clinging on to Salman Khan while riding a bike. Still not convinced about their off-screen chemistry?

Well, last month both Katrina and Salman were busy shooting for the television premiere of their recent film 'Ek Tha Tiger' at Yash Raj Studios. The couple left everyone shocked with their bond and chemistry. Everyone was taken abke because of 'the way they behaved made it look like there was never any problem between them," an insider had told a daily.

The promo, apparently showed Katrina in shorts and protective Salman, as usual wasn't too happy with it.
"Salman was quite wary about the camera angles capturing Katrina. So, he puts his legs in front of Katrina's to guard her. He did this subtly without tampering the concept of the shoot," the insider added.

"It was clear that they share a strong emotional bond, which is noticeable by their gestures," the insider had also said. So what are we to make of Katrina Kaif's 'brother' comment and her cozy bike ride? We say Katrina knows her game!