At a time when Bollywood boasts of Rs 100 crore films more often than not, a struggling filmmaker has done the Hindi film industry proud with the first ever zero budget movie. Tejas Padia, who hails from a small town in Gujarat, is a painter-turned-filmmaker with a difference. Padia earlier made India's first mobile film Ek Shukravaar in 2006, and now he's all set to release his first zero budget film called Lo! Ho Gai Party: Some parties lead to mess.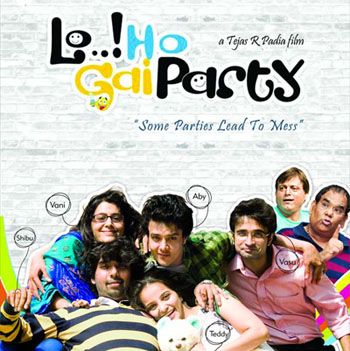 The film is about events that unfold one night when four friends celebrate the fact that one of them has bought a secondhand car. It was shot with a borrowed camera in a record 21-day stretch. Lo! Ho Gai Party features newcomers alongside popular character actors Manoj Joshi and Satish Kaushik, whom Padia has assisted in the past. All of them acted for free.

"Everything from stationery to the location of for the film was borrowed," Padia reveals. The filmmaker's friend's lavish house in Ghatkopar served as the setting for almost 60 percent of the film. The rest of the project was shot at Bandra and Jogeshwari. "Money was indeed a crucial factor.
But we were fortunate enough to come across people who believed in our vision and offered support in the form of trust, patience and resources that played a key role in making Lo…! Ho Gai Party," says Tejas. The movie, which is currently in its post-production stages, is scheduled to release online in January 2013. "My film is made free of cost and will be shown free of cost," says Tejas excitedly. We wish him all the best!