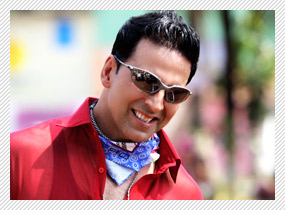 In a year that has seen a record number of 100 crore hits being dished out by Bollywood, everyone from Salman Khan and Aamir Khan to Akshay Kumar, Ajay Devgn and Ranbir Kapoor has consolidated his place in the exclusive club. While quite a few records have been made and broken, the year was particularly special for Akshay Kumar who managed to bring on two such films in his kitty.

While Sajid Nadiadwala's Housefull 2 was the first to do so, Sanjay Leela Bhansali's production Rowdy Rathore turned out to be his biggest opener ever. Now all eyes are on whether Khiladi 786, Akshay's co-production with Himesh Reshammiya, would be able to surpass this feat.

"Sajid Khan had promised Akshay that Housefull 2 would take the biggest opening ever of his career and he delivered when the film netted over Rs. 43 crores in just three days. Later Prabhudheva's 'masala' flavour worked immensely for Rowdy Rathore and the film topped the Rs. 48 crore mark, hence taking Akshay a notch higher. By the look of things, debutant director Ashish Mohan could well be aiming at a minimum of 50 crores weekend for Khiladi 786", says a source.

One waits to see if this is indeed the magical number that Akshay manages for his 'masala' flick, and in the process ends up topping his own record. "50 crore is a fabulous number indeed and doesn't seem unreachable either. After all, the film's music is a chartbuster, Asin is a lucky mascot for her leading men and Akshay is on a roll as well.
Moreover films belonging to this genre have been working immensely. Also, the film is being released on a record number of screens i.e. 2,786, which by the way also goes with the film's title. Not to forget that by the time Khiladi 786 releases, it would be close to a month since the release of Son Of Sardaar, last film which did well on the single screens", the source adds.

However, those associated with the film are keeping their expectations in check. An insider reveals, "Given the film's budget and the price at which it has been sold, whether there is a record or not, Akshay can well be expected to be happy even if anything over Rs. 40 crore is scored. That would be no less fantastic."