Say hello to Vidya Balan aka Neetu Bhatia, wearing a polka dotted top and a hairband with a bow to keep her tresses from falling on her face. And yeah, don't miss the flowery earrings, peeps. She looks bright, fresh and full of spirits in her upcoming movie Ghanchakkar. But that's just a start. Vidya will be playing wife to Emraan Hashmi aka Sanjay Athray – a Maharashtrian who is a tad forgetful and has opted for an early retirement. Neetu Bhatia, who becomes Neetu Athray after marriage, has robust Punjabi blood pulsating through her veins. She's a foodie who loves to experiment with recipes. The two are, as the buzz suggests, happily married.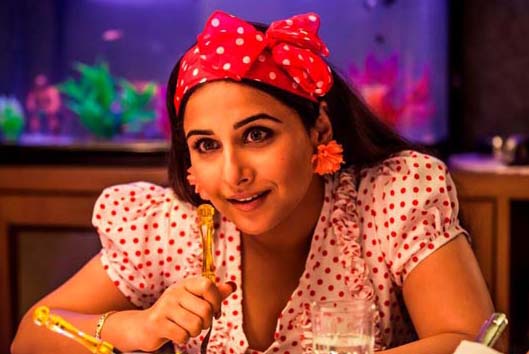 An interesting setting for a plot, right? And looks like Neetu – with bright colours sparkling around her – balances the drab, grey tones Sanjay's personality exudes. We take a closer look at this colourful bulb…oops…Neetu…to see if she manages to tread the thin line between just-perfect and overboard successfully. But these looks – the devilish avatar and cute girl dressed in polka dots – will be reserved to Neetu's 'before marriage' wardrobe, we assume. So after her marriage with Mr Athray, what have we is a slightly rounded Vids – who was asked to put on weight – dressed in long, printed long printed tops with quirky flared jeans. Must say, the attire manages to conceal all the bulges Vids flaunted in The Dirty Picture. But it doesn't make her look thinner. Guess that wasn't even the idea.
Also, the look reminds us of Rani Mukerji from Bunty Aur Babli. No, it isn't similar, but just the idea of making a strong style statement that could be termed as the 'new trend' by followers of B-town fashion makes us connect the dots. But will Vidya's look in Ghanchakkar be as successful as the collared kurti-patiala? Of course, accessories such as blingy earrings (a pair of horns in the 'devilish look') and loud expressions will be in place, we suppose. So with everything in order, will Vidya's look pack a punch? Or will it make us squirm? Or will it just fizzle out?