If you were surprised to see 'Pankhuri' on the dais giving Chris Gayle one of his many trophies for an unbeaten 92 for Bangalore against Mumbai on Thursday night, you are not alone. Sanjay Manjrekar, the MC, seemed surprised as well: he managed to stammer her name out eventually. And that of the award: the 'Rishta wahi soch nayi' prize for bringing "innovation" and "freshness" to the match. Move over 'Man of the Match'. 'Pankhuri's' real name is Disha Parmar. She is the protagonist of Pyaar Ka Dard Hai Meetha Meetha Pyaara Pyaara, a soap opera that airs on Star Plus.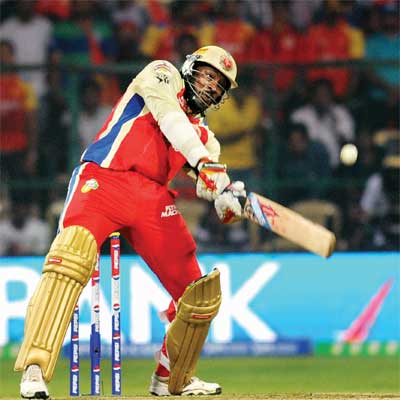 Pankhuri will likely be back, performing similar duties in future games. You will also see 'Kumud' and 'Saras' (played by Jennifer Winget and Gautam Rode in Saraswatichandra, "a poignant love story" of a man raised in Dubai and a girl brought up in Gujarat), 'Sandhya' and 'Sooraj' (Deepika Singh and Anas Rashid in Diya Aur Baati Hum, the story of an ambitious girl married to a boy from an underprivileged background), and several others, including chefs and contestants from MasterChef — Kitchen Ke Superstar. A dais already crowded by politicians/general busybodies, industry honchos, and the occasional former criketer, will now have to make room for soap stars. Star Plus is one of the official partners of the IPL.
Thanks to a new deal (anywhere between Rs 50 and 70 crore a year), the channel says it will showcase its "iconic" and "bigger than Bollywood stars" (Star India CEO Uday Shankar's description) in the world's wealthiest, most popular, cricket league. The deal seems sweet for Star: for a fraction of the listed price, they get a large slice of mileage. Industry watchers are calling it ambush marketing. Multi Screen Media are the IPL's official broadcasters. Sony Six(Hindi) and Set Max (English) bring you these matches because MSM pays the BCCI a whopping (approximately) Rs 900 crore per year (till 2017). But the presence of Star TV characters on the dais suggests to the audience that this is as much their event as it is Sony's.
While MSM chief executive Manjit Singh has chosen to call it "an act of desperation by Star to be part of the biggest sporting entertainment event", Shankar's take is that nothing Star India does is "hampering or impacting Sony/MSM". "These allegations (perceived 'ambush') are baseless. Our association with the IPL is simply a tribute to the power of the league," he says. But why Saas-Bahu stars on the cricket field? "Why not?" Shankar thunders. "A cricket lover is not a binary character. It's not cricket or nothing for him/her. Every person has social and political interests too. A lot of people give away awards anyway," he reasons.