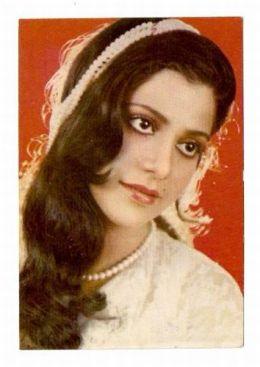 | | |
| --- | --- |
| Name | Anita Raj |
| Height | |
| Naionality | Indian |
| Date of Birth | August 13, 1962 |
| Place of Birth | Mumbai, India |
| Famous for | Acting |
Anita Raj (born 13 August 1962) is a former Bollywood actress who was popular in the 1980s. Born in 1962, Anita Raj is the daughter of character actor Jagdish Raj, who holds a record of playing police based roles in over 144 movies.

She & her sister were trained with the legendary Gopi Krishna in Kathak, and so at one of his annual programs, Yash Chopra noticed her. He wanted to cast her in a film, but that project could not start, in the meantime Hrishikesh Mukherji saw her pictures and signed her for his film Acha Bura.

But that film got delayed and Anita signed two more movies,which include Prem Geet, turned out to be her debut film. It had good music, good story line and Anita was having an author backed role too. Anita made an impact and walked out with critical acclaim.

She got to work with filmmakers like K.Balachander in Jara Si Zindagi, Hrishikesh Mukherji in Acha Bura, South's famous director Narayan Rao in Prem Tapasaya, Basu Chatterjee in Lakhon Ki Baat etc. She did lighthearted films like Zameen Aasmaan, Dulha Bikta Hai, Ab Ayega Maja etc. She was all set to do Coolie opposite Amitabh Bachan, which was also offered to Reena Roy, but finally Rati Agnihotri did it.

Earlier she was not willing to do glamorous roles, but after failure of some of her nice films and success of Naukar Biwi Ka and Jeene Nahin Doonga, she too moved to glamorous roles. She played glamorous roles in films like Masterji, Iljaam,Karishma Kudrat Ka and also de-glamorized roles in films like Ghulami, Satyamev Jayte, Kala Dhanda Gore Log, Pyar Kiya Hai Pyar Karenge. She got to work with actors who were much senior to her. She mentioned in an interview "I had a great rapport with all my co-stars. And there was virtually no star who mattered with whom I did not work. Besides Manojji, there were Dharmendra, Vinod Khanna, Sanjeev Kumar, Shashi Kapoor, Sanjay Khan, Rishi Kapoor, Jeetendra, Rajesh Khanna, Shatrughna Sinha, Kamal Haasan, Rajnikant, Anil Kapoor, Rajiv Kapoor and others.

I was like a buddy to them all and now when I come to realize that so many of them are nearing or touching 70, I am amazed at how I was romancing them just 15-25 years ago and we still matched as pairs."

While shooting of film Karishma Kudrat Ka she and director Sunil Hingorani fell in love and got married in 1986, but Anita continued acting. Jaan Ki Baazi, Kudrat Ka Karishma, Iljaam,Insaniyat Ke Dushman, Satyamev Jayte all did well at the box office. But most of these films were moneymaker means just successful, not classic and memorable. Even in 90s her films like Sherdil, Adharam, Khatarnak etc. did quite well, but she decided to quit films to look after her son and family.
She made comeback in last of 90s on TV with seriel Aashiqui and later with Eena Meena Deeka. Her long delayed film Sagar Sangam released in 2000. Recently she made a comeback in a film called Thodi Life Thoda Magic with Jackie Shroff, but that film was not noticed. She said that she is open to good offers.