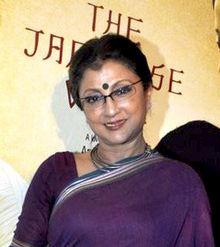 | | |
| --- | --- |
| Name | Aparna Sen |
| Height | |
| Naionality | Indian |
| Date of Birth | 25 October 1945 |
| Place of Birth | Calcutta, India |
| Famous for | Actor, Film director, Screenwriter |
Aparna Sen was born in Calcutta to a Bengali family, originally from East Bengal (now Bangladesh). Her father is the veteran critic and film-maker Chidananda Dasgupta. Her mother Supriya Dasgupta is the cousin of renowned Bengali poet Jibanananda Das. She spent her childhood in Hazaribagh and Kolkata and had her schooling initially in South Point and later mostly in Modern High School for Girls, Kolkata.

She studied her B.A. English honors in Presidency College..

She met the Magnum photographer, Brian Brake, in Kolkata in 1961 when he was visiting India to photograph his Monsoon series. Brake used Sen as the model for what was to become one of his most well known photographs - a shot of a girl holding her face to the first drops of monsoon rain. The photo shoot was set up on a Kolkata rooftop with a ladder and a watering can.