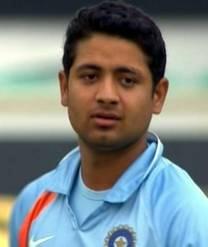 | | |
| --- | --- |
| Name | Piyush Pramod Chawla |
| Height | 5' 7" |
| Naionality | Indian |
| Date of Birth | 24 December 1988 |
| Place of Birth | Aligarh, Uttar Pradesh, India |
| Famous for | Cricket |
Piyush Pramod Chawla, born 24 December 1988, Aligarh, Uttar Pradesh, India) is an Indian cricketer who has played for the India U-55 team and the Central Zone. He first played for India U-19 against the England U-19 team in 2004-05, claiming 13 wickets from two Under-19 Tests at a bowling average of just above 12. He also played in the 2005-06 home series against Australia U-19, where they won the five-match limited overs series 4-1, taking eight wickets.Piyush Chawla has a bowling speed of between 80 km to 85 rather he has also reached a maximum of 91km/ph. Although he only bowled three of a possible ten overs in the first match of the series, conceding 21, he picked up two wickets in the next match against India A, and as India B reached the final against the Seniors, he took the wicket of Sachin Tendulkar - bowled with a googly - in an effort described by Cricinfo as "impressive".

This resulted in his selection in the Indian Test Squad for the 1st Test against England in Nagpur, in March 2006, and was selected for his debut in the 2nd Test against England in Mohali, making him the second youngest Test debutant for India after Sachin Tendulkar. Piyush played his first ODI with India on 12 May 2007, against Bangladesh. In his first County Championship match against Worcestershire, he took a total of 8 wickets in the match, and came in at number 9 in the first innings, and scored 102* from only 86 balls.

Piyush Chawla has also been selected as part of Indian Team's 15-man World Cup Squad for the 2011 World Cup. He started off strongly in the warm up matches leading India to victory with his bowling performance against Australia.