Topic on Mar 05, 2015 04:12 PM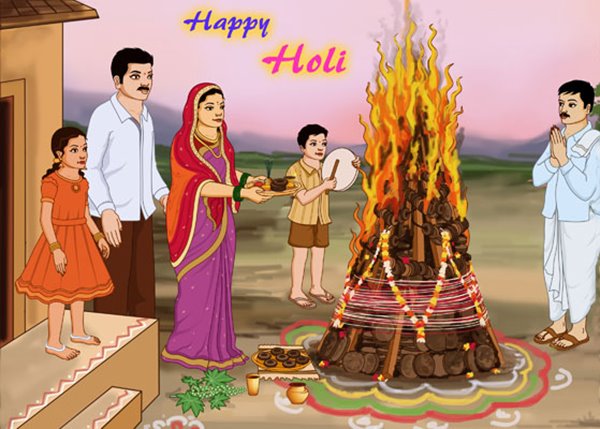 The Holi festival involves covering everyone in colored powder and water. It's lots of fun! Holi is a spring festival also known as the festival of colours or the festival of love. It is an ancient Hindu religious festival which has become popular with non-Hindus in many parts of South Asia, as well as people of other communities outside Asia.
Holi celebrations start with a Holika bonfire on the night before Holi where people gather, sing and dance. Holika Dahan: On the eve of Holi, called Chhoti or Small Holi people gather at important crossroads and light huge bonfires, the ceremony is called Holika Dahan. This tradition is also followed in Gujarat and Orissa. To render greatfulness to Agni, god of Fire, gram and stalks from the harvest are also offered to Agni with all humility. Ash left from this bonfire is also considered sacred and people apply it on their foreheads. People believe that the ash protects them from evil forces.
The next morning is a free-for-all carnival of colours, where participants play, chase and colour each other with dry powder and coloured water, with some carrying water guns and coloured water-filled balloons for their water fight. Anyone and everyone is fair game, friend or stranger, rich or poor, man or woman, children and elders. The frolic and fight with colours occurs in the open streets, open parks, outside temples and buildings. Groups carry drums and musical instruments, go from place to place, sing and dance. People visit family, friends and foes to throw colours on each other, laugh and chit-chat, then share Holi delicacies, food and drinks. Some drinks are intoxicating. For example, Bhang, an intoxicating ingredient made from cannabis leaves, is mixed into drinks and sweets and consumed by many. In the evening, after sobering up, people dress up, visit friends and family.