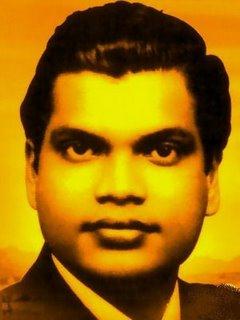 | | |
| --- | --- |
| Name | A. M. Rajah |
| Height | |
| Naionality | Indian |
| Date of Birth | July 1, 1929 |
| Place of Birth | |
| Famous for | Singing |
Aemala Manmatharaju Rajah(July 1, 1929 – April 8, 1989)) was a South Indian playback singer-music composer popular in the 1950s and the early 1960s in South India. He was popularly known as A. M. Rajah or Rajah. His songs were featured in numerous Tamil, Telugu, Malayalam and Kannada films in the 1950s, early 1960s and early 1970s. He also composed music for several films.

A. M. Rajah was born on 1 July 1929 in Ramachandrapuram, Chittoor District in present day Andhra Pradesh to Manmadharaju and Lakshmamma. His father died when he was three months old and then the family moved to Renukapuram and Madras (Chennai) later. His tertiary education was at Pachaiyappa's College from where he graduated with a B.A. Degree. By this time, Rajah was an accomplished piano player and had won several prizes in singing competitions. He was well versed with Carnatic Music and Western Music. He was also highly influenced by the Hindi and Gazal music and was the only answer from the South to North Indian singers like Talat Mehmood, Mukesh, Mohammed Rafi and Hemanta Kumar Mukhopadhyay.

During his University days, Rajah wrote, composed and sang two songs in his mother tongue, Telugu, with the instrumental support of the music director K. V. Mahadevan for HMV which were broadcast by All India Radio. Gemini Studios boss S. S. Vasan listened to these songs and, impressed, booked him for his next film, Samsaram (1951) with the approval of his music director, Emani Sankara Sastry, and also his good friend Kalki Krishnamurthy. By this time Rajah was also already recording songs for the films Rajambal and Kumari with music composers M. S. Gnanamani and K. V. Mahadevan respectively. Rajah, with instant popularity after the Samsaram songs came on the air, went on to sing in various languages, including Hindi and was the uncrowned prince of the South in the early and mid 1950s..He was equally successful in Telugu, Tamil, Malayalam and Kannada films.

His first Telugu film was Adarsham (1952). He also acted and sang in the Telugu film Pakkinti Ammayi(1953) directed by Chittajalu Pullayya. with music by G.Aswathama.He also appeared in Devadas, but in a small role. His first song in Malayalam was for film Lokaneethi (1952), music director being the composer V. Dakshinamoorthy.He sang for almost all the South Indian film music composers of the 1950s.A.M.Rajah was the first male playback singer from the South to have recorded songs for a Hindi film (Bahut Din Huye in 1952) whereas M. S. Subbulakshmi was the first South Indian singer (cum actress) to record songs for a Hindi film (Meera in 1947).He also sang in few Sinhala films produced in Chennai and Sri Lanka with Jikki and K. Jamuna Rani and his songs are still fondly remembered there.

Many of his solo songs and duets with all the leading female playback singers of that era were big hits.P.Susheela was introduced by Pendyala Nageswara Rao in the film ''Petra Thai'' (1952) in a duet with Rajah. In playback, what Mukesh was for Raj Kapoor, Rajah was for Gemini Ganesan. Rajah also sang many songs for Sivaji Ganesan and lent his voice to M. G. Ramachandran as well. Similarly, he sang for N.T.Rama Rao and Akkineni Nageswara Rao in several Telugu films and for Sathyan and Prem Nazir in many Malayalm films. Kannada film industry was not very developed in the 50's, most films being dubbed versions of Tamil and Telugu films.However, Rajah sang for the leading Kannada actors like Raj Kumar and Kalyan Kumar in the 50's.

A. M. Rajah's exit from the film world remained always a controversial one because he had a large passionate fan base at that stage and for several decades more as pointed out by famous film magazines like Pesum Padam and the popular Radio Ceylon. Rajah fell out with number of music composers and developed a reputation for being difficult to work with. His ways were rather direct and he had his own strong opinions about how songs must be composed and sung. His original promoter, K. V. Mahadevan, was the first to openly drop him completely after recording the song "Kayile Inippathenna, Kaniyanal Kasappathenna" (1958) that sparked off an heated argument at the sets of Manamulla Maru Tharam. It was also known in the cinema circles that M. S. Viswanathan resisted using Rajah in his films.By this time,he suffered the same fate in the Telugu film world, too. However, he continued to sing for Malayala films little longer where G. Devarajan was able to coax Rajah to sing from time to time.

But Rajah still remained a big name because his songs continued to be popular for many decades and he continued his music by regularly having stage shows in India as well as overseas whilst carrying on his tourist car business. He made a comeback in the 1970s through composers V.Kumar and Sankar Ganesh, and the songs were amongst the hits of the respective years.Composer Sathyam brought him back to sing a duet with P. Susheela for the Telugu film Puttinellu Mettinellu (1973), which was also a hit.

He was booked early in his cinema life as one of the music composers (others being T. A. Kalyanam and M. S. Gnanamani) for F. Nagoor's Genova (1952), an M.G.R starrer, but he passed on this opportunity to M. S. Viswanathan (his first film). Rajah however sang all the songs in this film including M. S. Viswanathan's composition Naame Jeeva Sugam with P. Leela.

A. M. Rajah's debut as music composer was for the Telugu film Shobha (1958) starring N.T.Rama Rao and Anjali Devi and directed by Kamalakara Kameshwara Rao.It was C.V.Sridhar who gave his friend the second break to be a music director, fulfilling his promise that the day he directed his first film, Rajah would be its music director. The Film was Kalyana Parisu (1959) with Gemini Ganesan and B.Saroja Devi in the lead. Rajah received the Madras Film Fans Association award of Best Music Director in 1959 for this film.In the same year he composed music for Anbukkor Anni directed by T. R. Raghunath. Sridhar and Rajah thereafter combined for films Vidivelli produced by Sivaji Ganesan under his banner Prabhuram Pictures and Then Nilavu produced by Sridhar under his own banner Chitrallaya. They fell out after the film was completed and Rajah refused to do the background music, but eventually did under pressure from mutual friends. Sridhar, however, went back to Rajah for Nenjil Or Alayam(1962), but Rajah refused. He then composed music for Adiperukku (1962) directed by K. Shankar. Thus ended Rajah's active film career which witnessed a meteoric rise and then an abrupt end after just 10 years. All these films were musical hits with Kalyana Parisu and Then Nilavu joining the list of all time greats.

In the 1970s, he composed music for films Amma Enna Stree(Malayalam-1970), Veetu Mapillai (Tamil-1973) and Enakkoru Magan Pirappan (Tamil-1975).