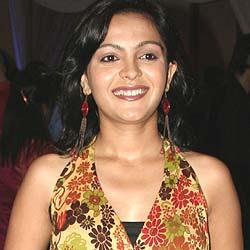 | | |
| --- | --- |
| Name | Ami Trivedi |
| Height | |
| Naionality | Indian |
| Date of Birth | 15 July 1982 |
| Place of Birth | Mumbai, Maharashtra, India |
| Famous for | Acting |
Ami Trivedi is an Indian television and theatre artist. She has done Gujarati theatre for many years. She has appeared in number of Hindi serials also. Her father is a well-known theatre actor, Tushar Trivedi who has been involved in Gujarati plays for over 20 years. Her elder brother, Karan Trivedi is also a theatre actor and a voice over artist.

Ami started acting in childhood. Her father, Tushar Trivedi has been is a theatre person so she literally grew up in the theatre. Both Ami and her brother have been child artists. As a child artist, she did cameos in few Hindi serials like 'Hamrahi' and 'Zee Horror Show'. In 1994, she acted in Prakash Jha's telefilm 'Didi' which focused on education of female children in rural areas.

Then she took a gap for her studies in class 10th and 12th. She graduated in science from Jai Hind College, Mumbai. She was keen to study medicine and wanted to be a doctor. But it eventually didn't happen. Things changed as she again got started with acting as a teenager. She did Gujarati theatres and received appreciation of the audience. She was more than happy to pick up from where she had left off, after finishing her education.

Ami's major theatre background helped her in getting many acting offers from television channels. She got her first break for a role in a daily soap 'Babul Ki Duwayen Leti Jaa' which aired on Zee TV. Thereafter, she did supporting roles in some shows like 'Dil Chaahta Hai', 'Khichdi' and 'Kumkum- Ek Pyra Sa Bandhan'.

When she heard about a new serial, Ami, auditioned for 'Kituu Sab Janti Hai' on the insistence of a coordinator. She didn't even have her photographs taken for self promotion. But still, the audition went off very well. As a result, she got a call back in two days. She was chosen among 40-45 girls. Based on her talent, she bagged the lead role in the show.

The show shaped-up her career as she quickly stole the limelight as the effervescent 'Kituu' in the serial, playing the role of a young extrovert 20-something girl who takes the plunge to face the professional world. She was well appreciated for her work as 'Kituu' and the show was a hit. After that, she appeared in number of hindi serials.

At present, she is in limelight for her role of 'Kokila' in a popular sitcom Papad Pol. She is also working in Sajan Re Jhoot Mat Bolo, as 'Tulika'. Both serials are being aired on SAB TV.

Ami's father, Tushaar Trivedi is now directing plays as a drama director at the Bhartiya Vidya Bhavan in London. Ami's mother, Jaya Trivedi is a housewife. Jaya is the greatest inspiration in her life. Jaya commutes between Mumbai and London. Whenever she's in Mumbai, she frequently visits her daughter on the sets with homemade food and also helps her to select the right kind of work. Ami's brother, Karan Trivedi has done many Gujrati theatres with her father and sister and is still working.

She got married to her boyfriend, Niraj Sanghai in 2009. Niraj Sanghai works at Prime Focus Ltd, which is one of the largest end-to-end post production services companies in the world.

They both met through a common friend on the sets of 'Kituu Sab Janti Hai'. There were many problems in their marriage as they belong to different castes. But finally after 4 years of dating, they were happily married to each other on 10 December 2009.