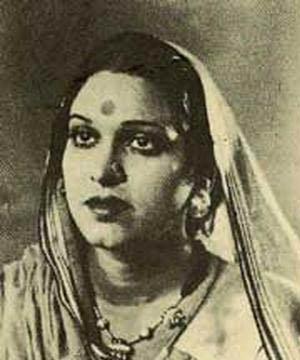 | | |
| --- | --- |
| Name | Amirbai Karnataki |
| Height | |
| Naionality | Indian |
| Date of Birth | |
| Place of Birth | Bijapur, India |
| Famous for | Singing |
Amirbai Karnataki (ca 1906 - March 3, 1965) was a famous actress/singer and playback singer of the early Hindi cinema and was famous as Kannada Kokila. Mahatma Gandhi was an ardent fan of her song Vaishnav Jan To.

Amirbai Karnataki was born in Bilgi village, District of Bijapur in Karnataka into a middle class family. Of all of his five sisters, Amirbai and her elder sister, Gauharbai, earned fame and fortune. Amirbai completed her matriculation and went to Bombay at the age of fifteen.

A representative from HMV was so impressed by her singing talent that he made her sing a Qawwali, which became very popular. Her elder sister, Gauherbai, was an actress and helped Amirbai get a role in the film Vishnu Bhakti in 1934.

Initially, Amirbai sang songs in films, but they failed to attain the success she desired. In 1943, with the release of Bombay Talkies' Kismet (1943 film) (1943), she achieved popularity: the songs of Kismet became a rage and Amirbai became famous. The man behind the success was the composer Anil Biswas. She was initially known as a singing star, but at the decline of her career she became a playback singer. She reached her peak by 1947.

At this time Lata Mangeshkar became a rising star, so once again Amirbai switched over to acting. In her later years she mostly played character roles. Amirbai also composed music for Wahab Pictures' Shehnaaz (1948). In the same year she almost left Hindi Cinema for Gujarati and Marwari films.She was married Badri Kaanchwala, the editor of Paras.

She had a paralytic attack in 1965, died just four days later and was buried in her hometown. A cinema still runs in the name of 'Amir Talkies' in the city of Bijapur by her family.