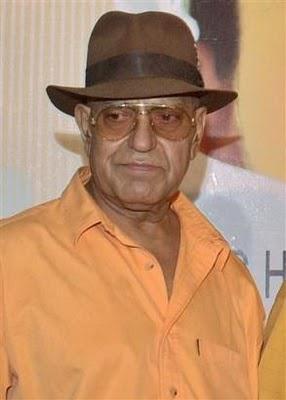 | | |
| --- | --- |
| Name | Amrish Puri |
| Height | |
| Naionality | Indian |
| Date of Birth | |
| Place of Birth | |
| Famous for | Acting |
Amrish Singh Puri, 22 June 1932 – 12 January 2005 was an iconic theater and film actor from India, who was a key player in the Indian theater movement that picked up steam in the 1960s. He worked with notable playwrights of the time, such as Satyadev Dubey and Girish Karnad.

However, he is primarily remembered for essaying iconic negative roles in Hindi cinema as well as other Indian and international film industries. To Indian audiences he is most remembered for his role as Mogambo in Shekhar Kapur's Hindi film Mr. India (1987), and to Western audiences he is best known as Mola Ram in Steven Spielberg's Hollywood film Indiana Jones and the Temple of Doom (1984).

Amrish Puri was born in Nawanshahr (former Tehsil of District Jalandhar), Punjab to Sri Nihal Singh Puri and Ved Kaur as the third of five children. His siblings include elder brothers Chaman Puri and Madan Puri (both actors) and elder sister Chandrakanta and younger Harish Puri. He later moved to Shimla and graduated from B.M. College, Himachal Pradesh.

Amrish Puri came to Mumbai in the footsteps of his elder brothers Chaman Puri and Madan Puri (both actors), who was already an established actor known for playing negative roles. He failed his first screen test, and found a job with the Employees State Insurance Corporation (ESIC).

At the same time, he started performing at the Prithvi Theatre, in plays written by Satyadev Dubey. He eventually became well known as stage actor and won the Sangeet Natak Akademi Award in 1979. This theatre recognition soon led to work in television ads and eventually to films at the late age of 40.

He went on to work in Hindi, Kannada, Marathi, Hollywood, Punjabi, Malayalam, Telugu and Tamil films. Though he was successful in all of these industries, he is best known for his work in Bollywood cinema. He has appeared in over four hundred films. His dominating screen presence and baritone voice made him stand out amongst the other villains of the day. He is best known for his role as Mogambo in the 1987 blockbuster, Mr. India and for his portrayal of Mola Ram, the antagonist in Steven Spielberg's Indiana Jones and the Temple of Doom.

Hindi: In 1971 he appeared in his first film, Prem Pujari although the first film he had signed for was Reshma Aur Sheraaa which was released in 1971. This was followed by many villain or supporting roles in numerous art films such as Shyam Benegal's Nishant, Manthan, and Bhumika and Suraj Ka Satvan Ghoda. He also appeared in Govind Nihalani's film, Party in 1984.

Amrish Puri grew to became a staple of Hindi films in the 1980s playing mostly villainous roles, and attracting the most acclaim for his work in the 1987 hit film Mr. India, directed by Shekhar Kapur. He played an egotistical international super-villain, Mogambo, who frequently refers to himself in the third-person, expressing satisfaction at the actions of his underlings with the phrase, Mogambo khush hua (Mogambo is pleased). Since then the Mogambo catchphrase has become one of the best recognized lines in Hindi Cinema.

He also went on to play many positive supporting roles, including his famous role as Baldev Singh, the conservative father who eventually lets his daughter marry her love instead of being forced into an arranged marriage, in the Bollywood blockbuster Dilwale Dulhaniya Le Jayenge (1995). Other positive roles include Group Captain Varghese, a Malayali officer in the Indian Air Force based film Vijeta, an ailing idealistic father in Ghatak: Lethal.

He was a kind-hearted American businessman in Pardes (1997) and a genial grandfather in the films Chori Chori Chupke Chupke and Mujhe Kuch Kehna Hai. He is also known to play a strict old man in comedy films like Jhooth Bole Kauwa Kaate, where he played a retired cop and Muskurahat where he played a retired judge.

His last films included Kisna: The Warrior Poet and Kachchi Sadak, which were released some time after his death.

Kannada: He acted in some Kannada films during the early days of his career. He played the protagonist role in a black & white off beat Kannada film Kaadu directed by Girish Karnad.He also acted in some other mainstream films.

Malayalam: He starred as the sadistic jailor in Kalapani in which co-acted Padmashri Mohanlal.

Punjabi: He is best known in Punjabi cinema for his role as the landlord villain Joginder Singh in the legendary film Chan Pardesi (1980). He also starred as the villain Zalam Singh in the religious Punjabi film Sat Sri Akal (1977). After twenty years, he returned to Punjabi cinema to make a brief appearance as the Sufi Saint in the acclaimed film Shaheed Uddham Singh (2000).

Telugu: He also appeared in Telugu films such as Jagadeka Veerudu Athiloka Sundari, Major Chandrakanth, Aditya 369, Kondaveeti Donga, Aswamedham, Aakhari Poratam etc.

Tamil: He appeared in the Tamil film Dalapathi (1991), directed by Mani Ratnam, opposite Rajnikanth and Mammootty, Tamil and Malayalam superstars respectively. After Dalapathi, Amrish Puri made his second and last appearance in the Rajinkanth's film "Baba" (2002) in which he played the role of an evil tantrik who helps politicians and other evil elements to succeed in their hideous schemes.

International: He is known to international audiences for his roles as Khan in Richard Attenborough's Gandhi (1982) and as the main antagonist Mola Ram in the Steven Spielberg's Indiana Jones and the Temple of Doom (1984). He shaved his head for the role, and it created such an impression that he kept his head shaved and became one of the most popular villains in Hindi Cinema. Amrish and Spielberg shared a great rapport and Spielberg often said in interviews that, "Amrish is my favorite villain- The best the world has ever produced and ever will!"

Death: He died on 12 January 2005, due to cerebral haemorrhage in Mumbai, Maharashtra, aged 72.