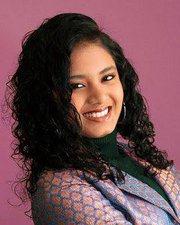 | | |
| --- | --- |
| Name | Anwesha Datta Gupta |
| Height | |
| Naionality | Indian |
| Date of Birth | December 15, 1993 |
| Place of Birth | Kolkata, India |
| Famous for | Singing |
Anwesha Dutta born Anwesha Dutta Gupta December 15, 1993) is a 17 year old singer who made her presence felt in the Indian music scene at the age of 13 through the reality show Amul STAR Voice of India, Chhote Ustaad.Anwesha was runner up in the finals, where the outcome was solely decided on the number of votes polled. She was the favorite of judges throughout the contest and had the sole distinction of bagging a Sarvottam for all her performances. Anwesha is known for her soulful rendition of a classical based song from the movie Bhool Bhulaiyaa - Mere Dholna.Anwesha is also known for starring in Gajendra Singh's Music ka maha muqqabla at the age of 16. She not only had the sole distinction of bagging 6 Singer of the Day awards for 7 performances, but also won the Singer of the Series award. In spite of being the youngest in the show, she defeated the winners and participants of various shows (Indian idol, JJWS, SVOI, SAREGAMAPA) who participated in music ka maha muqqabla and received the award. She was hugely applauded in this show for her flawless and rocking performances, which helped her team to the finals.Also one of the opposite teams captain in the show, Shankar Mahadevan said that she was the best singer that ever emerged from a reality show after Shreya Ghoshal in the 90's. She has also made her debut in commercial playback singing in a Hindi movie Golmaal Returns. Anwesha has sung the song Tha Karke, which is said to be the most expensive song to ever be shot in Bollywood.Apart from few Bollywood songs, She has many Bengali songs,albums and 2 Tamil songs to her credit. Along with other awards, she won Best female playback singer award for Bengali song in Tele Cine awards 2011(nominations included Shreya Ghoshal,Richa Sharma, June Banerjee).

Anwesha is a student of LYCEE School Kolkata,India. She is the only child of Mita and Kushal Dattagupta. Anwesha's ambition is to become a playback singer in the music industry and she idolises her parents. Her favourite singer is Lata Mangeshkar and Amitabh Bachchan is her favorite actor. Anwesha does 4 hours of 'Riyaz'(practice) everyday. She also likes reading detective stories and enjoys cricket & football (soccer in America).

At the age of 4, Anwesha started her training under Shri Jayanta Sarkar,a leading personality in Indian classical music and a composer . Anwesha still continues her training in Hindustani Classical music under him. She is guided by her mother in light music.

Anwesha achieved 1st Division with Distinction in Hindustani Vocal and Rabindra Sangeet under Bangiya Sangeet Parishad Examination(2002–03 & 2003-04). She also became one of the few recipients of the Jugal Srimal Talent Scholarship in Rabindra Sangeet, given by Tagore Foundation.

Anwesha was the Winner of "Young Talent Contest - 2004" in Indian Popular Vocal category (Junior) organized by the Calcutta School of Music. She has also won the All Bengal(Inter School) Music Competition 2006 organized by Smile World, an NGO. She was also the runner up at Amul Star Voice of India Chhote Ustaad.

Anwesha performed in Sabujer Deshe in 2000 (ETV Bangla). She was a Mega Finalist in Tarana music competition (1st Schedule) which was telecast in January 2003 (ETV Bangla). In early 2007, she also participated in the musical game show Antakshari(Star Plus) where she represented East Zone.